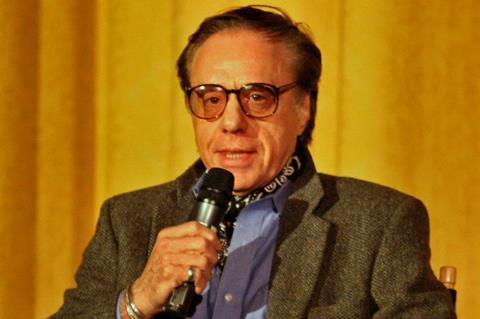 US director Peter Bogdanovich, a key figure in the New Hollywood movement of the 1970s who earned Oscar nominations for The Last Picture Show and also directed What's Up, Doc?, has died. He was 82.
Bogdanovich passed away of natural causes at his Los Angeles home early on Thursday (January 6), according to his daughter Antonia Bogdanovich.
Martin Scorsese, paying tribute in a statment released in the evening, hailed the filmmaker for "fighting for the art of cinema and the people who created it".
Bogdanovich worked as a film programmer for New York's Museum of Modern Art and as a critic and film writer in the early 1960s before moving into filmmaking later in the decade.
He scored a critical and commercial hit with his second film The Last Picture Show starring Cybill Shepherd, which won the 1971 Bafta for best screenplay and received eight Academy Award nominations including best director and best writing (adapted screenplay), which Bogdanovich shared with Larry McMurtry.
Bogdanovich left his wife, the production designer Polly Platt, and their two children, to embark on an affair with Shepherd. Following success with 1972 comedy What's Up, Doc? starring Barbra Streisand and Ryan O'Neal and 1973 comedy Paper Moon starring O'Neal's daughter and eventual best supporting actress Oscar winner Tatum O'Neal, Bogdanovich cast Shepherd in two more films, ushering in a professional fall from grace.
Both 1974's Daisy Miller and 1975's At Long Last Love were critically panned, however the career dive was punctuated by tragedy. After his relationship with Shepherd ended the filmmaker fell in love with Canadian Playboy model Dorothy Stratten. On August 14 1980, 20-year-old Stratten was shot to death by her husband Paul Snider who also took his own life. A year later, Bogdanovich's They All Laughed featuring Stratten flopped at the box office.
Bogdanovich directed 16 features across a 46-year career, although he never reclaimed the success of his early 1970s work. His most recent film was 2014's She's Funny That Way, based on a script he had written 15 years previously with Stratten's younger sister Louise, whom he had married in 1988 when she was 20. They divorced in 2001.
As well as writing and directing he took on acting parts throughout his career including a noted role as a psychotherapist in hit HBO show The Sopranos.
Martin Scorsese's statement in full: "In the 60s, at a crucial moment in the history of the movie business and the art of cinema, Peter Bogdanovich was right there at the crossroads of the Old Hollywood and the New. Curator, critic, historian, actor, director, popular entertainer…Peter did it all. As a programmer here in New York, he put together essential retrospectives of then still overlooked masters from the glory days of the studio system; as a journalist he got to know almost everybody, from John Ford and Howard Hawks to Marlene Dietrich and Cary Grant.
"Like many of us, he made his way into directing pictures by way of Roger Corman, and he and Francis Coppola broke into the system early on: Peter's debut, Targets, is still one of his very best films. With The Last Picture Show, he made a movie that seemed to look backward and forward at the same time as well as a phenomenal success, followed quickly by What's Up Doc and Paper Moon. In the years that followed, Peter had setbacks and tragedies, and he just kept going on, constantly reinventing himself.

"The last time I saw Peter was in 2018 at The New York Film Festival, where we appeared together on a panel discussion of his old friend Orson Welles' The Other Side of the Wind (in which Peter gives a great performance, and to which he dedicated a lot of time and energy throughout many years). Right up to the end, he was fighting for the art of cinema and the people who created it."