Electric Entertainment marks first major territorial sale of Philip Seymour Hoffman's final film as a leading man to Arrow Films in the UK.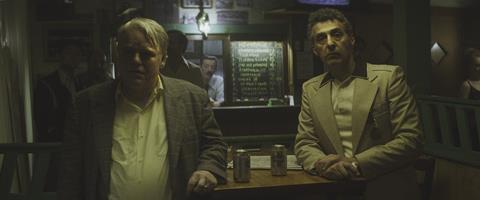 Arrow Films has secured all UK rights to to John Slattery's feature directorial debut God's Pocket from Dean Devlin's Electric Entertainment.
The film, starring the late Philip Seymour Hoffman, will be released in the UK later this year.
The story revolves around Hoffman's character, Mickey, who tries to cover up the accidental death of his insane stepson Leon played by Caleb Landry Jones.
It was reported last week that the movie will be released on May 9 in US theatres, distributed by IFC Films, and it will be available on video demand from May 14.
The film, which drew heated bidding for the foreign rights when it debuted at Sundance in January, was acquired by Electric and became part of their slate at last month's European Film Market in Berlin.
Electric's head of international distribution Sonia Mehandjiyska negotiated the deal with Tom Stewart, acquisitions director for Arrow Films.
"Upon seeing the film for the first time, I was so compelled by Philip Seymour Hoffman's performance and John Slattery's take on the material that I made it a point to personally pursue the rights for our company," said Electric's CEO Devlin.
"This is just the first step in presenting this film to world audiences, and we look forward to working with Arrow in bringing it to film fans in the UK."
"The film stands as a great example of just what a wonderful actor Philip Seymour Hoffman was and to see such a rich ensemble cast perform at the top of their game alongside him provides a fitting testament to the late star. We're thrilled to be collaborating on our first picture with Electric Entertainment," commented Stewart.
Hoffman's co-stars in the film include Richard Jenkins, Christina Hendricks, John Turturro and Caleb Landry Jones.
God's Pocket was written by Slattery and Alex Metcalf, based on the novel by Pete Dexter.
Producers are Sam Bisbee, Jackie Kelman Bisbee, Lance Acord, Slattery, Emily Ziff and Hoffman through his Cooper's Town Productions. It is a Park Pictures Film in association with Cooper's Town Productions and Shoestring Pictures.
Slattery, who plays Roger Sterling on US drama Mad Men, had previously directed a number of episodes of that series, but this marks his feature film directorial debut.
The news comes just over a month after Hoffman was found dead in his New York City apartment. The acclaimed actor, who won the Oscar for his leading role in 2005 film Capote, was found on Feb 2 with a needle in his arm on the floor of his Manhattan apartment. Police found nearly 50 packets of heroin at his home.