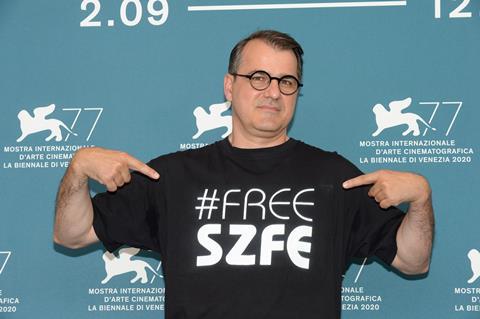 Hungarian director Kornel Mundruczó, whose feature Pieces Of A Woman premiered in competition at Venice last week, and representatives of the European Film Academy have joined protests against Hungarian prime minister Viktor Orban's government's decision to impose a new leadership on the University of Theatre and Film Arts (the SZFE) in Budapest.
The government's actions have provoked an ongoing student blockade of the university. Berlinale Golden Bear winner Ildiko Enyedi resigned her teaching post at the university in protest at the measures.
"It is my alma mater," Mundruczó, who wore a t-shirt (#FREESZFE) in support of the students at Saturday's Venice press conference for his film, told Screen late on Sunday. "We would like to express solidarity with those students."
"The students are protesting for the university and for freedom of the arts," the director added, calling the government's decision to appoint the new board of trustees "very, very dangerous."
"We have to keep the school as the place of freedom because art cannot be limited."
On Sunday, the European Film Academy published a letter supporting the students and senate of the University in its actions against the Orban government.
"We deplore the fact that the University Senate has been deprived of its decision-making power and that the University of Theatre and Film Arts in Budapest has essentially lost its academic autonomy." read the letter.
"We fully support the students and the Senate of the University in their decision to not recognise the legitimacy of the new Board. The art of cinema can only breathe in an atmosphere of openness, transparency and democracy.
The letter was signed by Wim Wenders and Mike Downey, president and chairman of the EFA Board respectively.