Pinewood Shepperton has been granted planning permission for the long-awaited £200m ($340m) expansion of its Buckinghamshire site.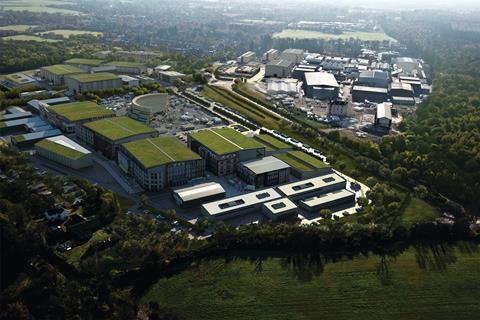 The decision by the Secretary of State for Communities and Local Government clears the way for Pinewood to double in size, which the company said would "address the clear need for additional capacity in the UK".
The 1m sq ft development will include 12 large studios and stages with supporting workshops and production offices.
Three of the studios will be around 40,000 sq ft in size.
Pinewood chief executive Ivan Dunleavy welcomed the announcement and told Screen's sister publication Broadcast that the new stages could be open before the end of 2015.
"As with any large development there is a process to go through and there are detailed matters to agree with the planning authorities, but the key is that the Secretary of State has found it appropriate to grant outline consent," he said.
"The process matters are important items that may take the balance of this year [to agree], and then construction can start when they have concluded.
"The last two large stages we built took about nine months, so we know how to build new stages. Fingers crossed we will see productions using them by the back end of next year.
"There is a lot of work to be done and a lot of infrastructure to install but we are up for the task."
Pinewood says the expansion will provide £194m ($330m) of private sector infrastructure investment and it claims the additional capacity will generate an additional annual £37m ($63m) in UK exports and contribute £36m ($61m) in taxes.
Pinewood Shepperton has been trying to expand its Buckinghamshire site for years (see timeline, below), but its proposals to build on green belt land have always been met with stern opposition from locals.
"It's clearly right that they put forward their point of view," said Dunleavy.
"Across the whole community I don't think anyone disagrees with the importance of Pinewood, and through the whole process we have sought to let them know what we are doing and take account of their views as we develop the plan as best we could.
"What's clear is that for high end TV and for film the UK is one of the most popular destinations for production in the world. But the UK is struggling to provide capacity and this [expansion] is a clear remedy to that challenge.
"This project will create 3,100 additional jobs and support the 5,000 that are already here. What's also important from the government's point of view is that we are putting up £200m to make it happen.
"We are delighted with the decision but now the real work starts."
Adrian Wootton, CEO of the British Film Commission and Film London, said: "This news is hugely positive on several levels. Not only does it address the UK's growing need for stage space, and adds significant value to the UK's offer to domestic and international film and television producers, but it also demonstrates the Government's continued recognition of the importance of the UK's creative industries in terms of job generation and inward investment."
Pinewood's expansion plan:
323,000 sq ft of studios and stages, including three studios of 40,000 sq ft
350,000 sq ft of workshops
371,000 sq ft of office space
24,800 sq ft of "other accomodation"
Streetscapes for filming
1,000 car parking spaces
New access from Pinewood road
An underground waste water treatment plant
On-site energy centre
Landscaping and open public spaces with permissive public access
Timeline: Pinewood's planning battle
November 2013
Pinewood announces it is turning away work due to a lack of space
May 2013
Pinewood Studios launches an appeal against the refusal of planning permission for the expansion of its Buckinghamshire site
May 2013
Plans for the £200m expansion turned down after being labelled "inappropriate" by the local authority
February 2013
Pinewood submits new plans for the expansion of its Buckinghamshire site which it says will deliver growth for the next 15 to 20 years
January 2012
Pinewood's proposed development of standing sets and 1,500 homes is blocked by the secretary of state for communities and local government
March 2011
'Project Pinewood' expansion plans are presented to the Secretary of State for Communities and Local Government as part of public inquiry
September 2008
Plans to build 2,500 residential homes at Pinewood are scaled back after objections from the local community
August 2008
Pinewood Shepperton says it will spend around £3m on the planning application for its ambitious Project Pinewood scheme
November 2007
£200m 'Project Pinewood' plans include permanent working sets with a number of backdrops including a Venetian canal and a Roman amphitheatre
November 2007
Pinewood Shepperton announces plans to create the UK's 'live-work' TV community in a proposed extension to its existing site