Point Break knocked The Martian off the top spot, while local fantasy comedy Surprise – Journey To The West set a new record for previews.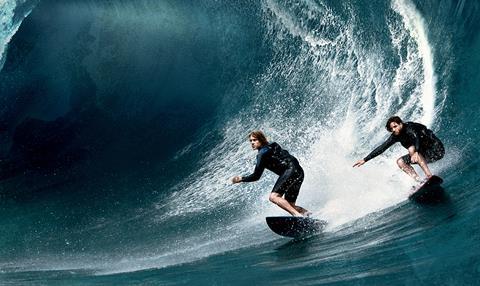 Point Break surfed to the top of the Chinese box office in its second week.
The action-adventure remake, which rolled out in China three weeks before the US, took $18.8m from December 7-13, expanding its cumulative take to $30.74m after 10 days.
Trailing close behind was Surprise – Journey To The West which took the second spot based on preview screenings on Saturday and Sunday only.
Distributed by Bona Film Group, the local period fantasy comedy raked in $17.54m, setting a new box office record for previews. The cast includes 20 Once Again actress Yang Zishan and Chen Bolin from Taiwan.
In its third week, Fox's The Martian was relegated to third spot with $12.46m. The Matt Damon-starrer has amassed $87.87m after 19 days.
Local romance Fall In Love Like A Star shifted down to fourth with $7.35m for $22.81m after 11 days, while local sci-fi comedy Impossible maintained at fifth place with $6.72m for $15.21m after 10 days.
The only other new title was The Master which launched at sixth place with $4.85m over its four-day opening weekend. The local martial arts drama, starring Silver Bear best actor Liao Fan and rising actress Song Jia, recently won the Golden Horse best action choreography for writer-director Xu Haofeng. Xu's writing credits include Wong Kar Wai's The Grandmaster and Chen Kaige's Monk Comes Down the Mountain.
Taiwanese megahit Our Times added $3.9m from $55.32m after 25 days; local romantic comedy Go Lala Go 2 took $2.78m for $6.96m for 10 days; The SpongeBob Movie: Sponge Out Of Water took $2.34m for $7.51m after 13 days; and local sci-fi romance comedy Oh My God rounded up the chart with $2.18m for $8.43m after 10 days.
With the December blackout period now in full effect, no foreign studio films will be released for several weeks. Surprise – Journey To The West will open on December 18, head-to-head with high-profile Mojin - The Lost Legend.