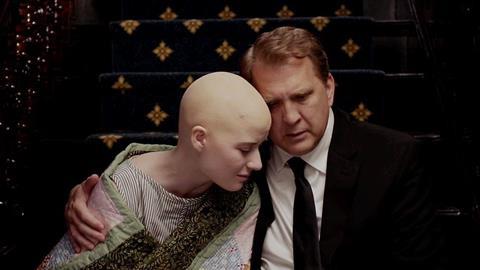 Los Angeles-based sales agent and producer Premiere Entertainment Group has launched the faith-based label Grace Films in time for the start of Toronto.
Premiere CEO and president Elias Axume announced on Thursday (September 6) the label will kick off sales on Getting Grace, Champion, and Heavens To Betsy.
Daniel Roebuck stars in and directs Getting Grace, about a teenage girl dying of cancer who crashes a funeral home to find out what will happen to her, only to end up teaching an awkward funeral director how to celebrate life. The film opened on 60 screens in the US last March through Hannover House and debuts on digital platforms on November 6 through Random Media.
Marsha Dietlein, Dana Ashbrook, and newcomer Madelyn Dundon star alongside Roebuck. Jeff Lewis and Roebuck wrote the screenplay, which Roebuck produced alongside Mark Rupp, Tammy Roebuck, Brian Glassford, Cory Geryak, Chris Monte, and Davie Cabral.
Andrew Cheney, Gary Graham, and Faith Renee Kennedy star in Champion, which tells the story of an incident that causes the lives of two men to intersect. One must fight for his family, and the other must fight to forgive.
Judd Brannon makes his feature directorial debut from a screenplay by Missy Reedy and Sarah Inabnit. Steve Hyland produced with Brannon serving as executive producer.
Champion earned a limited theatrical US release and goes out on digital through Universal Pictures Home Entertainment.
Robert Alaniz wrote and directed Heavens To Betsy, a comedy about an aspiring children's author whose prayers are suddenly answered all at once, erasing her past and altering her present life.
The film stars Jim O'Heir, Karen Lesiewicz, Steve Parks, and Arianna Lexus Alaniz also produced, with William Curtis, Ronald P. Smith, Max Nayden, and William Wagoner serving as executive producers. Vision Video handled the US release.
"We are very proud and excited to launch Grace Films, which will feature quality faith-based content that inspires and shares the good news," said Axume. "There is a growing demand for faith films, both domestically and internationally, as demonstrated recently with box office successes such as I Can Only Imagine and God's Not Dead."
Axume, vice-president of acquisitions Carlos Rincon, and senior vice-president of sales Devin Carter, brokered the deals with the films' producers.