EXCLUSIVE: France deal for Hungarian comedy-thriller Kills On Wheels about a disabled gang.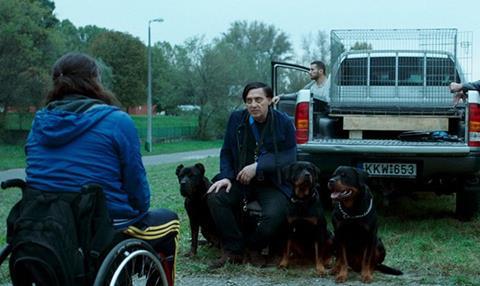 Paris-based distributor Pretty Pictures has acquired French rights to Hungarian comedy thriller Kills On Wheels ahead of its world premiere at the Karlovy Vary International Film Festival in July.
The high-octane comedy-thriller revolves around two physically disabled young men who team up with a wheelchair-using hit man to offer their services to the Mafia as assassins. They enter a surreal world of gangsters and gunfights all the while coping with their disabilities.
The deal was negotiated between Pretty Pictures founding chief James Velaise and Klaudia Androsovitz of Hungarian National Film Fund World Sales.
"The film is funny, a great thriller and full of fun action. We are convinced we have found something very new in its approach to filmmaking and which manages to break many taboos," said Velaise.
One of the lead actors, Zoltán Fenyvesi, who goes under the Twitter handle of @wheelchairguy, is a celebrity figure in Hungary where he champions living life to the full.
The filmmakers are not expecting to encounter similar controversy to that surrounding current hit romance Me Before You, in which the paralysed lead character is drawn to euthanasia, a plotline that has angered disabled rights groups in the UK.
Kills On Wheels is the second feature-length fiction film for director-writer-actor Attila Till after 2008 feature Panic. Judit Stalter at Laokoon Filmgroup, which produced the Oscar and Cannes Grand Prix-winning Son Of Saul, is the producer.
Pretty Pictures is planning to release the film in France later this year.
Kills On Wheels will compete in the East of the West Competition at Karlovy Vary running July 1-9 this year.