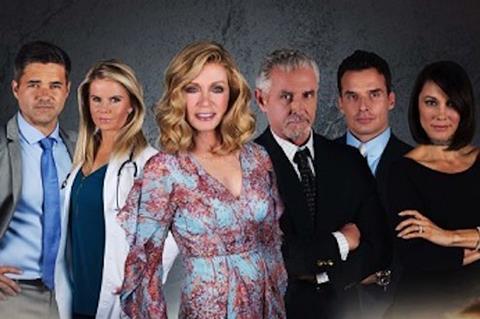 Ron Gell, vice-president of international sales for Pure Flix/Quality Flix, the international branch of Pure Flix, will be introducing two new television series and two new films at this year's MIPCOM.
Pure Flix will present its slate, which consists of comedies, dramas, romance, and family features, to potential co-producing partners in Cannes. Ron can be found at the market at Riviera 7 at Stand R7C26.
The Pure Flix slate screening at MIPCOM include:
Hilton Head Island, an original 13x1 hour soap opera in the tradition of All My Children, General Hospital, and Falcon Crest. When Daniel Trask, family patriarch and founder of the ISLE Television Network, falls seriously ill, his wife and children are suddenly at odds over control of the family's media empire. Donna Mills, Antonio Saboto Jr, Crystal Hunt, and Michael Swan star.
Malibu Dan: The Family Man stars David A.R. White, Kelly Stables, Andrea Logan White, John O'Hurley, and Robin Givens. The 13x25 family comedy centres on Dan Marshall as he juggles his home life with wife and daughter and the demands as co-host of the pre-dawn talk show Good Morning, Malibu.
Family film The Stray stars Michael Cassidy as the distracted patriarch of the Davis family, Sarah Lancaster as his unhappy wife, Connor Corum as their lonely young son, and Jacque Gray. The Stray tells the story of how a stray dog, Pluto, impacts the life of the struggling Davis family. In just a short time, Pluto the "wonderdog" manages to save a toddler, bring comfort and companionship to a hurting 9-year-old boy, help restore a marriage, and repair a broken father-son relationship. The film was directed, produced, and written by Mitch Davis, and co-written by Parker Davis.
The Dating Project, directed by Jonathan Cipiti, is a docu-feature film that reflects on the Millennial dating culture of today's world. The film follows five young single people who are trying to figure out dating in the age of social media, texting, hanging out and hooking up. The film is set to premiere for limited release on Valentine's Day 2018.
Gell said: "We are so excited about the high quality of films and series we are representing this fall at MIP. From Donna Mills to Robin Givens, and from Antonio Saboto Jr, to Michael Cassidy, the incredible talent involved with each production is top rate. There is truly something for everyone with the wide variety of genres and formats available. I look forward to meeting with international broadcasters interested in co-production on our slate of upcoming projects."