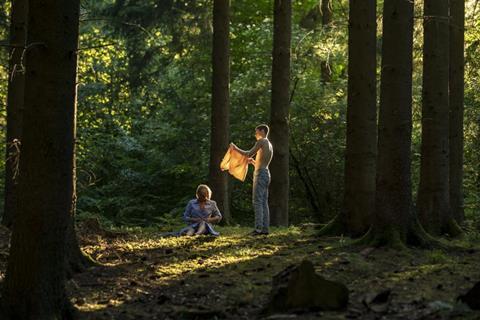 Two Danish films were the buzz hits of Haugesund's works in progress presentations this week. They were Queen Of Hearts, a drama starring Trine Dyrholm as a middle-aged woman having an affair; and political thriller Sons Of Denmark.
Dyrholm, whose credits include The Commune, Oscar winner In A Better World and TV's The Legacy, stars in May el-Toukhy's second feature Queen Of Hearts alongside rising Swedish actor Gustav Lindh. The story is about Anne, a lawyer who works with troubled youth, who shockingly starts an affair with her teenage stepson, and the repercussions she has to face afterwards.
El-Toukhy wrote the script with Maren Louise Käehne, who also collaborated on her debut Long Story Short. Queen of Heart's producers are Caroline Blanco with Rene Ezra from Nordisk. TrustNordisk handles sales and the Danish release is set for March 2019.
Sons Of Denmark is the debut feature of Ulaa Salim, set in the aftermath of a bombing in Copenhagen, when a nationalist politician is on the rise and a young man is becoming radicalised. Daniel Muhlendorph produces for Hyaene Film, the new company that he and Salim have established. There is no sales company attached yet and Nordisk will release in Denmark in spring 2019.
Half of the 16 works in progress presentations – the more cutting-edge projects – were eligible for the Eurimages Lab Project Award, worth $57,800 (Euros 50,000), which recognizes a film that is more experimental in form and content. That prize went to Norway's Burning Man, directed by Itonje Søimer Guttormsen and produced by Maria Ekerhovd of Mer Film. The story is about a performance artist struggling to find her place in Oslo's cultural scene.
The jury said it was attracted to Burning Man's "clear authorial direction, the good use of rhythm, and the original cinematographic exploration of the main character's road trip whilst she confronts some extreme situations."
A special mention from the Eurimages jury went to Season by John Skoog, a visually stunning portrait of rural Sweden that is produced by Palme d'or winner Erik Hemmendorff of Plattform.
Other highlights from the works in progress presentations included Aurora, about an asylum seeker who meets a party girl in Finnish Lapland, which director Miia Tervo memorably described as "Coming To America meets Tarkovsky"; Marina Nystrom's The King Of Atlantis from Sweden, about a complicated father-son relationship; Frederikke Aspock's Danish prison choir story Out of Tune (sold by SF); Danish-German war epic In Love & War; and Martin Lund's teenage relationship story Psychobitch from Norway.
Other industry awards
For the Scandinavian Debut pitch, of feature debuts at script stage, the winner was Norway's Wolf, Wolf – about a city couple who move to a countryside farm and face danger from local wolves – from director Jon Vatne and producer Gudrun Austli.
That jury said the film had "fascinating themes of city vs countryside and man's complicated relationship with nature and one of its most mythical creatures, the wolf."
The Debut special mention went to Sweden's Fire, about one crucial summer in a gay teenager's life, to be directed by Jerry Carlsson and produced by Anette Sidor and Frida Martensson.
The Nordic Script Pitch award went to Asthildur Kjartansdottir's Vergo from Iceland, about a young boy who thinks aliens can help heal his sick mother.
In the Nordic Co-Production Market, the best project award went to One-Off Incident (x10), a collection of 11 short films about women's experiences in society, produced by Elli Toivoniemi from Finland's Tuffi Films.
At the festival, Cannes hit Border by Ali Abbasi won the Norwegian Film Critics Award; the Ray of Sunshine Award went to Ken Scott's The Extraordinary Journey of the Fakir; the Fipresci award went to Teemu Nikki's Euthanizer; the ecumenical film prize went to The Children Act by Richard Eyre; and the audience award went to Nadine Labaki's Kapernaum. The Next Nordic Generation Award went to The 99 Steps Left from The Square directed by Sevgi Eker from Aalto University.
Haugesund welcomed a special delegation from Germany this year, ahead of the EFM in Berlin presenting a Norwegian focus in 2019. German attendees included producer Karsten Stoter, Tassilo Hallbauer from Beta Cinema, Birthe Klinge from the German Federal Film Board and Teresa Hoefert du Turegano from Medienboard Berlin-Brandenburg; plus the Berlinale's Matthijs Wouter Knol, Jana Wolff, Martina Bleis, Michael Stutz, Nikolaj Nikitin and Stephen Locke.