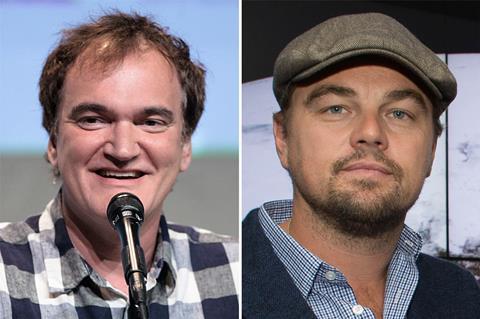 Quentin Tarantino and Leonardo DiCaprio capped off Sony's CinemaCon presentation on Monday evening as the filmmaker promised his upcoming August 2019 release would be closest to Pulp Fiction in tone and deals with "wild characters".
The writer-director said he will shoot Once Upon A Time In Hollywood in Los Angeles this summer and plans to take the city back to its counter-culture heyday. DiCaprio and Brad Pitt star in the prokecy that references the Manson Family murders.
"Once Upon A Time In Hollywood takes place during that Hollywood era of 1969," Tarantino said, without giving much away. "It takes place at the height of the counter-culture explosion. It takes place at the time of the hippy revolution and it takes pace at the height of new Hollywood."
DiCaprio, who starred for the filmmaker in Django Unchained, said the screenplay was one of the best he had ever read, while chairman of Sony Pictures Entertainment motion picture group Tom Rothman went further, hailing it as the finest he had ever read.
Sony slate
Rothman announced that the Jumanji sequel would open in December 2019, joking with exhibitors in the audience at the Colosseum in Caesars Palace that they should not reserve all their screens to a Star Wars film.
Jumanji: Welcome To The Jungle has been a major driver in Sony's recent and most successful stint at the box office in more than a decade, earning $956.6m worldwide, alongside other hits like Peter Rabbit – now the most successful film in the UK outside the James Bond franchise – Baby Driver, and Spider-Man: Homecoming.
Earlier in the presentation, Rothman and his cohorts introduced a number of anticipated 2018 highlights and footage: Matthew McConaughey and Studio 8 founder Jeff Robinov talking up Yann Demange's '71 follow-up and crime drama White Boy Rick (September 21); Claire Foy and Fede Alvarez from The Girl In The Spider's Web (with MGM, November 9); Tom Hardy, Michelle Williams and Riz Ahmed from Venom (October 5); Antoine Fuqua talking up The Equalizer 2 (July 20); and Benicio del Toro from Sicario: Day Of The Soldado (June 29).
Phil Lord and Chris Miller bounded on stage to show rough footage from their animation Spider-Man: Into The Spider-Verse (December 14); Trevor Jackson, Jason Mitchell and Lex Scott Davis joined Director X to talk up their action thriller SuperFly remake (July 1); and Will Ferrell kicked off the show to trumpet Holmes And Watson (November 9).
Gina Rodriguez and director Catherine Hardwicke enthused about action thriller remake Miss Bala, which will open on February 1, 2019. Hardwicke said the film shot entirely in Mexico and comprises 95% Mexican cast and crew.
Upcoming 2019 highlights include Men In Black and Spider-Man sequels in the summer.