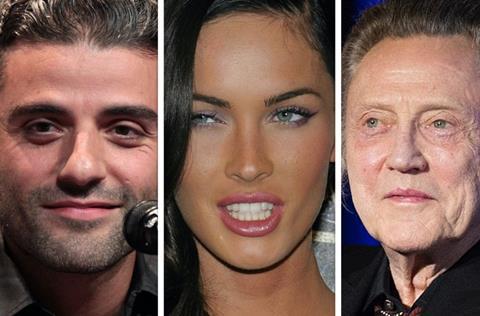 Radiant Films International has boarded sales rights on select Motion Picture Exchange (MPX) titles including Percy starring Christopher Walken and the comedy drama Big Gold Brick starring Oscar Isaac and Megan Fox.
Production has wrapped on Big Gold Brick, which also stars Andy Garcia, Lucy Hale and Emory Cohen and recounts the story of the eccentric Samuel (Cohen) and his fateful encounter with Floyd (Garcia), a mysterious and extravagant family man who hires Samuel to write his biography.
However Floyd's wife (Fox) and daughter (Hale) have other plans for Samuel. Brian Petsos wrote and directed and produced with Greg Lauritano under Petsos' A Saboteur banner, along with JoBro Prods.' Jonathan Bronfman. Isaac and Kristen Wiig are among the executive producers
Walken, Christina Ricci and Zach Braff star in Percy, a drama in the vein of Dark Waters and Erin Brockovich about a family man and small-town farmer who takes a stand against one of the world's largest conglomerates.
Clark Johnson (S.W.A.T., Netflix's Juanita) directed from a screenplay by Garfield Lindsay Miller and Hilary Pryor. Daniel Bekerman (The Witch, Ready or Not) and Ethan Lazar (The Witch, The Prodigy) produced.
Radiant president and CEO Mimi Steinbauer and MPX founder and CEO James Andrew Felts made the announcement on Thursday (13).
Radiant Films will commence international sales in Berlin while MPX will continue to oversee US sales and strategy.
"We are proud to be representing Percy and Big Gold Brick, two high-calibre feature films at EFM," said Steinbauer. "These dynamic films will leave a lasting impression on audiences worldwide, having an elemental theme of the underdog versus the wealthy."
"This collaboration brings a high level of international expertise to our films and clients as we continue to grow as a global content company," added Felts. "We are thrilled to kick off this new business relationship with Mimi Steinbauer and her amazing team at Radiant."
In addition to co-representing Percy and Big Gold Brick, Radiant Films will also handle international sales on MPX's suspense thriller Aftermath starring Ashley Greene (the Twilight franchise) and Shawn Ashmore (X-Men Franchise), currently in post-production. Peter Winther directs and Peter and his brother Lars P. Winther produce.
Percy, Big Gold Brick and Aftermath were financed by Productivity Media whose Black Bear and Four Good Days premiered in Sundance.
Additional titles being presented for international sales by Radiant under the MPX deal include the completed romance-thriller Altar Rock starring K.J. Apa, and the sci-fi thriller Entangled starring Marlee Matlin.