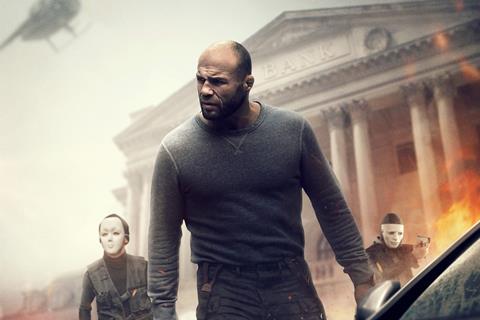 LA-based Premiere Entertainment Group's (PEG) Randy Couture heist thriller Blowback has wrapped production ahead of a sales launch at the virtual Cannes Marché in June.
Six-time UFC champion Couture (The Expendables franchise; The Scorpion King 2) stars alongside Cam Gigandet (Twilight franchise; Priest) in the story of Nick (Gigandet) who goes after Jack (Couture) after he is betrayed during a Las Vegas heist.
Rounding out the cast are Louis Mandylor, Michele Plaia, Rafael Cabrera, and William McNamara. Production took place entirely in Las Vegas, Nevada.
Tibor Takács (The Gate; Lies & Illusions) directed from an original screenplay written by Kevin Yarris, Robert Edward Thomas, and Matthew Eason.
PEG is handling worldwide rights and will be presenting the film and an exclusive promo to buyers at the market.
CEO and president Elias Axume is producing alongside Al Bravo. The film marks the company's the sixth production in the last two years.
Michael Brown, Chris Maher, David Coppa, Stuart Alson, Carlos Rincon, Nicole Holland, and George Chung serve as executive producers on Blowback alongside Matthew Helderman and Luke Taylor for BondIt Media Capital, who provided financing.
The feature joins PEG's production roster that includes The Commando starring Mickey Rourke and Michael Jai white, which recently wrapped; Seized starring Scott Adkins and Mario Van Peebles and released by Lionsgate; and Legacy starring Luke Goss, released via Redbox.
PEG's sales credits include The Night, Sister Of The Groom, Gundala, and Centigrade.