FILM BAZAAR: Films in rare languages, mockumentaries and a growing interest in genre filmmaking are some of the dominant themes in this year's Film Bazaar Recommends.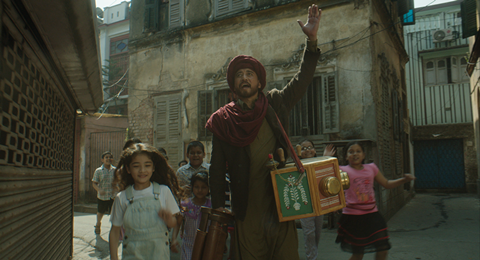 Among the line-up are films such as The Gold Laden Sheep & The Sacred Mountain filmed in the Pahari language, spoken in the Himalayas, and The Golden Wing (Sonar Baran Pakhi) made in Rajbanshi, which is spoken in the northeast Indian state of Assam.
"The northeast of India and the lives of the people in the mountains seems to inspire directors from this region, as well as other parts of India, perhaps because the landscape is so cinematic," says Film Bazaar Recommends and WIP Lab curator Deepti DCunha.
This year's line-up also includes The Bioscopewala, loosely based on Rabindranath Tagore's short story Kabuliwala, which is partly shot in the Dari language, spoken in Afghanistan. Produced by Mumbai-based Sunil Doshi, the film stars Danny Denzongpa, Gitanjali Thapa, Tisca Chopra and Adil Hussain. The Bioscopewala and The Gold Laden Sheep have also been selected for Film Bazaar's Work-in-Progress (WIP) Lab.
Meanwhile, DCunha also points to a rise in genre filmmaking among this year's submissions: "There seems to be a budding interest in the mockumentary as an emerging cinematic form by young directors, while there's also an exciting attempt at the horror genre, which is fresh for Indian films."
The mockmentary style, popularised this year by Rohit Mittal's Autohead, has been deployed in Kabir Chowdhry's Mehsampur, following the mishaps of a director researching a film about a murdered folk-singing duo. Films that verge on the horror genre include Sri Lankan drama A Red Butterfly Dream, Marathi-language Hide And Seek (Lapachhapi) and mystical drama Sexy Durga, shot in Malayalam.
As in previous years, films featuring child or adolescent protagonists also feature prominently in Film Bazaar Recommends. "The resilient spirit among innocent children who gain wisdom through their life experiences seems to be a dominant theme," DCunha says.
Films in this category include Drishyam Films' Unknown Faces (Rukh), about an 18-year-old unravelling the mystery of his father's death; Rahul Shanklya's Nimmo (also in WIP Lab), about unrequited young love; father-and-son tale Izahaq – Smoke On The Altar; Colours Of Innocence, about two young brothers; and Bhasmasur, about a child trying to save the family donkey.
Other high-profile titles in the selection include Amit Masurkar's second feature Newton, also produced by Drishyam Films; Idgah, based on Munshi Premchand's short story and starring Shabana Azmi; Nilamadhab Panda's Dark Wind (Kadvi Hawa), which tackles the issue of farmer suicides; and and Kanwal Sethi's Once Again (also in WIP Lab).