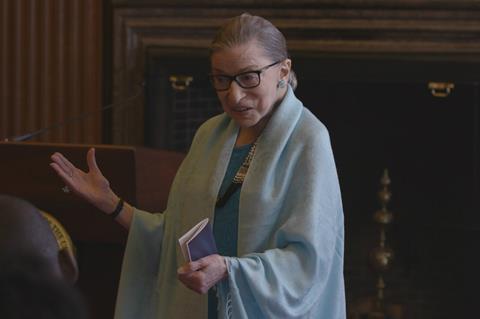 Magnolia Pictures and Participant Media have reported a string of fresh deals including the UK and Japan on RBG, the documentary about Supreme Court Justice Ruth Bader Ginsburg that continues to enjoy a smash summer run in the US.
New sales on the film, which has climbed to more than $13.7m Stateside, include Dogwoof for the UK, eOne for Benelux, Fine Films for Japan, and Jinjin for South Korea.
Magnolia head of international sales Lorna Lee Torres and her team launched sales in Berlin earlier this year and since then have struck numerous deals including one with Icon Film Distribution for Australia and New Zealand.
Australia was the first territory to launch internationally, opening RBG on July 26 on 35 prints nationwide, where it grossed AUS $85,000 (approximately USD $61,425) in its first week and currently stands on AUS $225,000 (approximately USD 162,600). Other distributors have earmarked year-end or early 2019 debuts.
Rights have also gone to: Koch Media (German-speaking Europe), Nonstop Entertainment (Scandinavia), L'Atelier d'Images (France), Flow (Latin America), DBS and Kan TV (Israel), DDDream (China), Edko (Hong Kong), Spotlight Entertainment (Taiwan), AAA Entertainment (Africa), Pictureworks (India), and Terry Steiner International (worldwide airlines).
Director-producers Betsy West and Julie Cohen chronicle 85-year-old Ginsburg's extraordinary professional accomplishments, in particular her fight for sexual equality, her lifelong love affair with her husband, and her recent emergence as a pop culture icon.
CNN Films and Storyville Films produced, and Magnolia Pictures and Participant Media distributed in the US, with Mongrel Media handling Canada. CNN Films retains US television rights.
Torres negotiated all sales on behalf of Participant Media and Magnolia Pictures alongside manager of international sales Catalina Ramirez Chaves.