Industry sources have given a positive response to remarks made yesterday by Suella Fernandes MP, parliamentary under-secretary of state in the Department for Exiting the European Union, that the concerns of the Creative Industries (including film) will remain "central" to the UK's post-Brexit future.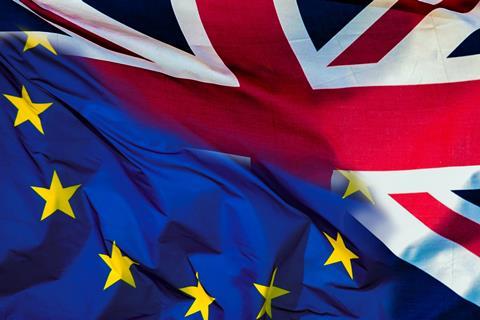 Fernandes confirmed that the UK will continue to participate in the EU's current Creative Europe Programme until 2020. She was speaking at 'The creative industries beyond Brexit' conference held at London's National Gallery yesterday (March 15).
The minister wasn't able to give any assurances about what will happen after the programme ends. However, she noted: "you don't need to be a member of the EU to be part of these programmes," hinting that the UK will try to stay within the MEDIA Programme even after 2020.
"Whether it was Loving Vincent or The King's Speech, EU funding has been put to very good use by the sector," Fernandes said.
"The Minister's words were more reassuring that I was expecting," one well-placed UK film industry source commented. "The singling out of Creative Europe as a programme goes a step further than what the Prime Minister (Theresa May) had said in her Mansion House speech, when she referred in general terms to 'cultural programmes'.
"The Minister made a special effort to specify that those cultural programmes mean Creative Europe. That was significant and very positive."
Disturbing insights
Despite the upbeat comments from the minister, many speakers provided disturbing insights into the likely impact of Brexit on the UK's creative industries (including its film sector) during the forum. The UK is due to leave the EU on March 29, 2019.
In a specially filmed interview for the conference, leading British director Amma Asante (Belle, A United Kingdom) expressed her fears about a post-Brexit UK film industry and the potential difficulty she will face in working with European talent.
"I don't know that there is anything I can do as a creative in the industry to prepare for it (Brexit) other than to hope that somehow the government will recognise that the UK is one of the most creative countries in the world and that our partnership with European countries is important," commented Asante, who was confirmed this week as director of big budget espionage thriller, The Billion Dollar Spy.
"I am concerned about co-financing, I am concerned about access to European tax breaks because we were able to benefit from both European as well as UK tax breaks," Asante continued. "I am also concerned about working with European talent." She predicted that Brexit would make a "huge difference" both to "production companies and also to individual creatives like myself who struggle to get that financing."
Other delegates from film, design, art, architecture, music, theatre and gaming shared their concerns about such matters as freedom of movement, visas, border taxes, growing skills shortages and the disruption that could be caused by a "no-deal Brexit".
Many acknowledged that the "blow of Brexit" to the creative sectors has been cushioned in the short term by a weak pound. However, some employers said they were already seeing "Brexit clauses" in contracts. (UK employers are being asked to guarantee non-UK employees legal and financial protection in the case of a "hard Brexit".)
Downbeat note
One European participant, Frédéric Meseeuw, senior advisor on European projects and policies at the Centre for Fine Arts Brussels (BOZAR), painted a bleak picture of Creative Europe without Britain.
"For me, it is impossible to see a European cultural landscape supported partially by Creative Europe without British partners," he said.
Speaking at the event (organised by Creative Industries Federation), leading British architect Amanda Levete, principal of AL_A, struck a downbeat note about the challenges for British creative businesses in "attracting and retaining talent from across Europe." She warned that some of the best young talent is already looking beyond the UK.
"Migration of talent happens very quickly," she said. "We've already had people leave to go back to their home towns in Europe. We are seeing a marked decrease in applicants from the EU. Economies in Spain and Portugal are picking up and France and Holland are looking like better alternatives than the UK," Levete commented. "We are losing our reputation for diversity and tolerance, the very values that make our cities thrive."
"We need to send a message that young creatives are welcome here and we need to send that fast. The longer we hear only hopes rather than answers from our leaders, the greater the psychological damage," the architect said.
Levete, along with many other delegates, acknowledged that she was now exploring the option of setting up an EU base.
Opportunities
The Creative Industries contributed £92 billion in GVA in 2016, representing over 5% of the UK economy – a proportion comparable to the construction or information sectors. The sector grew by 45% between 2010 and 2016, faster than any other sector.
Fernandes and some other speakers, including former London Deputy Mayor Munira Mirza, pointed to the new trade opportunities that will be available to the UK once it leaves the EU. Mirza described Brexit as an opportunity for the UK to venture outside "a very protectionist zone, which is the EU".
"It (the EU) is our biggest market because it has a big protectionist fence around it," Mirza claimed.
Paul Pacifico, CEO, Association of Independent Music, said that Brexit was already causing "direct price rises" for independent music companies as they deal with "low-level European protectionism" from clients and suppliers.
"I have members in the music sector reporting to me price rises from European suppliers on supplies like paper for printing; you see new charges being brought in for stock holding CDs in warehouses in Europe that we haven't seen before. These are price rises we can't pass on to the consumer."
Many UK companies are already making contingency plans for Brexit – and these plans often involve upping sticks and relocating to new bases within the EU.
As Pacifico put it: "The problem is, we are giving up one of our highest value trading partners in the world [in the EU] to go in search of much lower value trading partners."