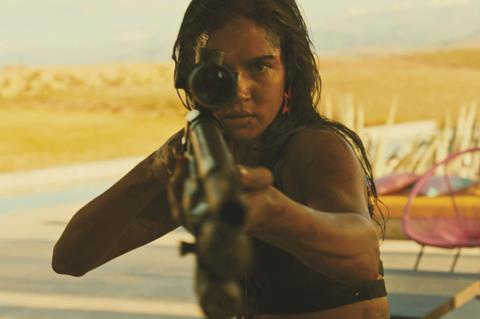 This year's Bucheon International Film Festival (BIFAN) presented its top prize, the Best of Bucheon Award, to Coralie Fargeat's France-UK co-production Revenge. The award comes with a cash prize of $17,620 (KW20m).
BIFAN (July 12-22) held its awards and closing ceremony on Friday night (July 20) followed by two more days of encore screenings.
"The Bucheon Choice: Features international jury comprised actress Barbara Crampton, director Byun Young-joo, scriptwriter Takahashi Hiroshi, Edinburgh film festival artistic director Mark Adams, and actor Kim Kang-woo."
Crampton said the jury admired Revenge for "its style and sense of visceral horror-drama" with Coralie Fargeat "clearly a filmmaker with a great future ahead of her". She added that the film is "blessed with a memorable lead performance, beautiful design and cinematography and a real sense of action and momentum."
Fargeat, who was working on another film when she heard the news of the award, flew in from France the same day of the ceremony to thank the festival and jury saying, "I must say one of the cinemas that inspired me was South Korean cinema. So I am very honoured to be here to accept this award from a Korean film festival."
The Best Director Choice prize with $4,400 (KW5m) went to Issa Lopez for her Mexican film Tigers Are Not Afraid.
Adams, on behalf of the jury, lauded the director saying she "wonderfully relishes the chance to use breathtakingly beautiful effects and memorable cinematic motifs while tackling an essentially sad story of lost childhood and revenge."
The Jury's Choice award of $4,400 (KW5m) went to Iwakiri Isora's Japanese film The Sacrament, with the Audience Award going to Korean film Ghost Walk, directed by Yu Eun-jeong.
In the Korean Fantastic: Feature competition, the Best Korean Fantastic Film award went to Jung Min-kyu's Land Of Happiness, which also picked up the Korean Fantastic Best Actress award for Ye Su-jeong.
Kim Young-ho picked up the Korean Fantastic Best Actor award for his performance in Dogs In The House, directed by Shin Hae-gang. The actor thanked BIFAN and the jury saying he hasn't been to many festivals since his role in Hong Sang-soo's Night And Day.
The Korean Fantastic Audience Award went to director Hwang Wook's Live Hard. Other awards included the EFFFF Asian Award from the European Fantastic Film Festivals Federation, which went to Ueda Shinichiro's One Cut Of The Dead, with a Special Mention to The Blood Of Wolves, directed by Shiraishi Kazuya.
Advait Chandan, director of closing film Secret Superstar, starring Aamir Khan, was on hand Friday to present the film saying, "The biggest award for a filmmaker is to have an audience. So I thank the festival for giving this film another audience."
The 22nd BIFAN is understood to have brought their audience numbers up to the level of its 20th anniversary. Official tallies are due out later this week.
The BIFAN Industry Gathering (BIG) wrapped July 18 with the Network of Asian Fantastic Films (NAFF) project market awards going to Abdul Zainidi's Worm And The Widow from Brunei and Sokyou Chea's Soul Searching from Cambodia.
In other news, festival guests as well as parts of local and Japanese media were abuzz with the news that young Japanese director Naruse Kiyoto, who had brought along a prop sword to his Q&A, accidentally poked a hole in a screen at the CGV Sopoong while re-enacting a scene from his film Night Of The Dead Geisha on July 14.
CGV was reported to be looking into the matter and had not asked for compensation while the festival was looking to find an amicable solution.