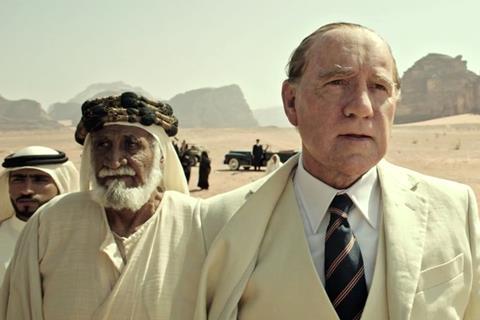 Ridley Scott has spoken out about replacing Kevin Spacey with Christopher Plummer for his upcoming film All The Money In The World.
Spacey played J Paul Getty in the project, but after news of his alleged misconduct came to light in early November, Scott decided to reshoot all of his scenes in time for the film's December 22 US release date.
Speaking to Entertainment Weekly, Scott described his reaction when he first heard the Spacey news: "I was finished with the film and was in [U.K. recording studio] Abbey Road finalizing the music. Someone was like: Guess what? And that's where it began. I sat and thought about it and realised, we cannot. You can't tolerate any kind of behaviour like that. And it will affect the film. We cannot let one person's action affect the good work of all these other people. It's that simple."
Scott said that Plummer "was always on the list" to play Getty and he quickly agreed to step in. "So then we had to figure out if everyone else would be available to fit in these new days of shooting. Miraculously, they were," he said.
Scott said he never considered pushing back the release date and never spoke to Spacey after re-casting him.
Describing his approach to getting the scenes done on time, he said: "I know I can deliver. I move like lightning. I'm already two scenes ahead. It's simple! If you know what you're doing, you don't need 19 takes. You do one for the actor, one for me. It's all planned out. When you storyboard, you've already pre-filmed the movie in your head — the wide shots, close shots, establishing shots. You've gotten some of your weird ideas when you're quietly sitting, storyboarding by yourself."
It is understood Spacey did no more than 10 days' work on the film and wore heavy make-up in character as the oil magnate, who refuses to buckle when his grandson is abducted by the Italian Mob. Michelle Williams plays the boy's mother and Mark Wahlberg is Getty's advisor.
Imperative Entertainment financed the drama, with Dan Friedkin and Bradley Thomas serving as producers along with Scott Free's Scott and Kevin J. Walsh, Quentin Curtis and Chris Clark.