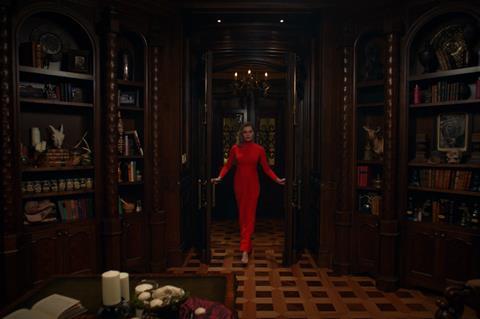 Horror film Satanic Panic from Fangoria and handled by Double Dutch International outside North America has found a US home in the form of RLJE Films.
Hayley Griffith stars as the cash-strapped pizza delivery person who ends up in the fight of her life when her last order of the night takes her into the lair of satanists in need of a virgin sacrifice.
Chelsea Stardust directed the story from a screenplay by Grady Hendrix based on a story by Hendrix and Ted Geoghegan.
Rounding out the cast are Ruby Modine, Michael Polish, Jerry O'Connell, and Rebecca Romijn.
The film premiered at the acclaimed Overlook Film Festival horror event. Dallas Sonnier, Adam Goldworm and Amanda Presmyk served as producers, and Charles Dorfman and David Gilbery are executive producers for Media Finance Capital, alongside Phil Nobile Jr. and Danielle Cox for Fangoria.
RLJE will release the film theatrically and on VOD on September 6.
"We could not be more excited to be releasing the instant classic, Satanic Panic," said RLJE chief acquisitions officer Mark Ward. "Chelsea Stardust is a filmmaker on the rise and we know audiences will line up to see this completely original and wild film from Fangoria."
Ward and Jess De Leo negotiated for RLJE Films with Sonnier on behalf of the filmmakers.