Sci-fi series to be overseen by longtime Coronation Street producer Tony Wood.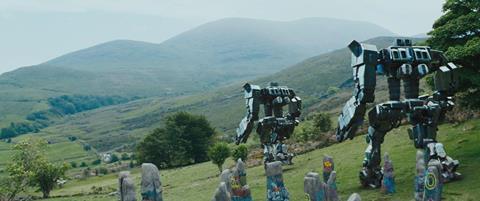 Robot Overlords, the UK sci-fi feature starring Gillian Anderson and Ben Kingsley, is to get a spin-off TV series overseen by Tony Wood's Buccaneer Media.
The agreement, signed with Piers Tempest and Jo Bamford's Tempo Productions who produced the movie, will see Buccaneer Media create a TV series set in a parallel universe to the original movie, which features a group of survivors following the invasion of Earth by alien robots.
Robert Overlords director Jon Wright announced the adaptation at MCM London Comic Con.
Wood is a British drama producer that worked on long-running soap Coronation Street for 12 years as well as Desi Rascals and Nickelodeon's live action kid's series House of Anubis.
Wood said the TV series of Robot Overlords would "reimagine" the story "for an international family TV audience", compariing it to classic British sci-fi brands such as Quatermass and Doctor Who - "packed with special effects and rebellious excitement".
Tempest of Tempo Productions said: "This series will really expand the canvas of the robot occupation and we are aiming to make an explosive show that the UK will be very proud of."
The title and cast for the spin off TV series has yet to be announced.
Robot Overlords first screened at the London Film Festival last October and was released in the UK in March.
It starred Gillian Anderson, Sir Ben Kingsley, Callan McAuliffe, James Tarpey and Ella Hunt. The movie was directed by Jon Wright, written by Wright and Mark Stay and produced by Piers Tempest with special effects by Nvizible.
The film will received a home ent release in the UK through Signature Entertainment on August 10.