DECEMBER 19 UPDATE: Warner Bros' Fantastic Beasts And Where To Find Them crosses $500m overseas.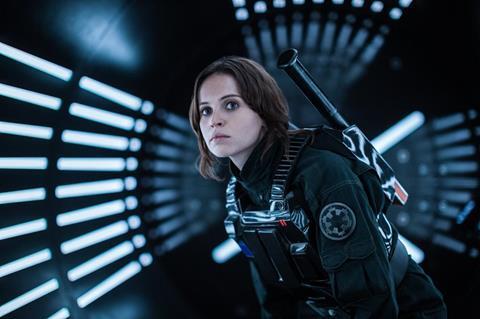 WALT DISNEY STUDIOS MOTION PICTURES INTERNATIONAL
Rogue One: A Star Wars Story launched with a $290.5m global weekend, landing top of the chart in every market.
Overseas, Rogue One's $135.5m bow from 54 territories marks the fourth highest December opening of all time, with the highest opening weekend of 2016 in the likes of France ($10m), Germany ($12.5m) and Spain ($4.5m).
Its biggest international debut came in the UK with a four-day $21m opening marking the biggest of the year to date and the second biggest December opening ever, behind only The Force Awakens.
Other highlights included the third highest opening weekend for Disney ever in Australia with $10.8m.
At 708 IMAX screens worldwide, Rogue One amassed $29.2m for the second biggest December IMAX opening of all time. $10.2m of its opening weekend came from 307 IMAX screens overseas, including the biggest IMAX opening ever in Japan, Denmark and Belgium.
Lucasfilm's Star Wars spin-off opens in South Korea on December 28 and in China on January 6.
With no new openings, Moana sailed to an extra $15.5m from its 32 territories for $118.4m overseas and $280.3m worldwide.
France fell only 12% with a $4m third weekend for $16.4m to date, the UK added $1.8m (dropping 25%) for $8.7m after three weeks in play and China took $2.2m for $28.4m to date.
The animation opens in Germany and Italy, as well as Austria, Greece and Ukraine next weekend, ahead of a Boxing Day release in Australia.
THE GREAT WALL
Universal and Legendary's The Great Wall scaled the heights in China with an estimated $67.4m opening weekend.
Zhang Yimou's epic action-fantasy took $23.8m yesterday (December 17) and an overall $7m from 364 IMAX screens across the weekend, marking the second highest December IMAX opening ever and third highest local title IMAX opening of all time.
WARNER BROS PICTURES INTERNATIONAL
UPDATE: Fantastic Beasts And Where To Find Them might have lost its overseas box office crown, but it has crossed the $500m mark internationally.
The Harry Potter spin-off conjured up $15m from its 66 markets to bring its overseas haul to $510.3m. Its current leading territories are China ($84.8m), the UK ($56m) and Japan ($43.7m).
Collateral Beauty started its international rollout in 16 markets with a $4.9m debut, led by $1.6m and $1.5m bows in Russia and Mexico which saw it chart second behind Rogue One in both territories.
Across the festive period, it opens in France (December 21), Spain (December 23) and the UK (December 26).
Boosted by a $615k debut in Brazil to chart fourth, Sully had its own box office milestone as a $4.6m weekend from its 24 markets lifted it to $103.5m.
IM GLOBAL
From its three territories, revenge thriller The Wasted Times posted an estimated $9m overseas debut, according to ComScore.
Mel Gibson's Hacksaw Ridge shot to a further $8.6m from its 15 territories for $57.5m to date.
Next Entertainment World (NEW)
Park Jung-Woo's Pandora added an estimated $7.6m in South Korea for $17.7m to date, according to ComScore.
The film was picked up by Netflix last month with the streaming service launching it in 190 countries next year, excluding South Korea.
UNIVERSAL PICTURES INTERNATIONAL
UPDATE: Kicking off with $1m in the Netherlands, Sing generated $6.6m from its 15 territories for an early $17.3m.
Illumination Entertainment and Universal Pictures' latest animation held well in Germany with a $2.8m second weekend for $7.3m and added $274k in Portugal for $616k.
It makes its bow in 35 territories next weekend, including Brazil, Mexico and Spain.
Nocturnal Animals stands at $11.3m ahead of its openings in Germany and Austria, among others, while Manchester By The Sea enjoyed a $527k debut in France from 162 sites.
LIONSGATE INTERNATIONAL
UPDATE: With no new major openings, awards contender La La Land danced to an extra $4.7m from its 14 markets for an early $11.5m.
In South Korea, the musical boosted 2% as it remained in second with a $9.5m running tally to date. It opens in the Netherlands next weekend, following by Australia on Boxing Day.
PARAMOUNT PICTURES INTERNATIONAL
Office Christmas Party added $4.6m from its 19 Paramount markets and has reached $34.8m from Paramount and Mister Smith Entertainment territories.
Its best second weekend came in Russia where it took a further $866k for $3.8m to date, ahead of its final Paramount openings in Uruguay and Taiwan next weekend.
With no new openings, Allied took $2.1m from its 35 markets for $38.2m so far before it opens in Germany next weekend and Australia on Boxing Day.
SONY PICTURES RELEASING INTERNATIONAL
Underworld: Blood Wars sliced to another $3.4m from its 55 markets for $42.7m and opens in Spain and the UK on January 13.
ARRIVAL
Arrival took an additional $3.3m from its 42 territories for $54.4m so far.
From its 34 Sony markets, the critically acclaimed sci-fi grossed $2.7m from its 34 markets for $32.6m. In France, it stands at $3.2m after two weeks in play.
It has amassed $21.8m from its eight FilmNation Entertainment territories to date.
FOX INTERNATIONAL
UPDATE: Trolls took $3m from its 58 markets for $176.5m. It fell only 17% on its way to a $1.4m third weekend in Australia for $8m to date.
Led by a $1.4m debut in Italy to chart second, Miss Peregrine's Home For Peculiar Children grossed $1.6m from its nine markets for $193.5m. It opens in Japan on February 3, 2017.