JANUARY 9 UPDATE: Disney's Star Wars spin-off lands in China with estimated three-day $31m chart-topping debut.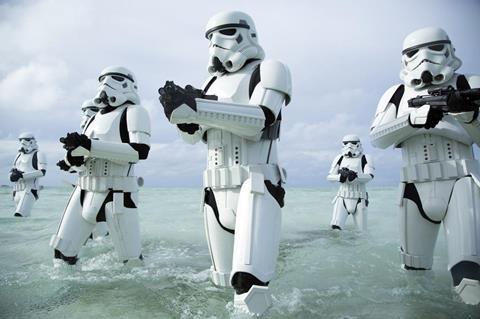 WALT DISNEY STUDIOS MOTION PICTURES INTERNATIONAL
Rogue One: A Star Wars Story has crossed the $900m mark at the worldwide box office with a $78.6m global weekend seeing it reach $914.4m.
The Star Wars spin-off landed in its final overseas territory of China with an estimated three-day $31m chart-topping debut, which is around 61% of The Force Awakens' two-day opening weekend.
Rogue One grossed an overall $56.6m from its 57 overseas territories for $437.1m to date, and continued to hold well in Europe and Latin America. It retained the top spot in the UK and France, among others.
The UK is currently its leading international territory with $73.7m.
With openings still to come in Japan and South Korea, Moana sailed to $20m from its 38 territories for $224.7m so far.
The animation charted second in Brazil with a strong $4.6m debut, marking the second-highest opening of all time for a Disney Animation or Pixar title behind Finding Dory. It lands in South Korea, Uruguay, Bolivia and Ecuador next weekend.
FOX INTERNATIONAL
UPDATE: Assassin's Creed hunted down $46.5m from its 70 markets for $98.6m to date.
The video game adaptation landed top of the chart in Russia with a terrific $9.4m and also posted chart-topping bows in the UK ($6.6m), Mexico ($3.8m) and the Philippines ($1.2m).
It fell only 18% in Germany with a $2m second weekend for $8.7m and recorded a $1.8m third weekend in France for $12.8m. The film arrives in seven new markets next weekend, including Sweden, Brazil and South Korea.
Opening in the likes of Hong Kong ($610k) and Argentina ($374k), Why Him? grossed $6.3m from its 48 markets for $25.8m so far.
The comedy enjoyed strong holds in Australia with $1.2m (-27%) for $5.8m and the UK with $954k (-2%) for $4.9m, and releases in Germany, Russia, Spain and Belgium, among others, next weekend.
Miss Peregrine's Home For Peculiar Children and Trolls stand at $199.6m and $185.5m, respectively.
SONY PICTURES RELEASING INTERNATIONAL
Led by a chart-topping $5m bow in Germany, Passengers delivered $32.7m from its 62 markets for $104.6m to date.
The sci-fi romance also opened in five Latin American markets for a total of $4.5m (the majority coming from $3.2m in Brazil) and landed in South Korea with a five-day debut of $3.5m from 550 screens.
Holdover-wise, the film boosted 7% in Russia for a $2.3m third weekend and a local tally of $15.1m, as well as dropping only 2% in Italy on its way to a $1.6m second weekend for $4.4m to date.
Passengers lands in China next weekend and Japan on March 24.
Resident Evil: The Final Chapter retained top spot in Japan for the third straight week as it dropped only 8% for $2.4m and a terrific $27.3m. The film expands to the rest of the world from the end of January.
UNIVERSAL PICTURES INTERNATIONAL
UPDATE: Sing is nearing the $150m mark at the overseas box office as a $26.8m weekend in its 60 territories lifted it to $143.8m.
Illumination Entertainment and Universal's latest hit animation opened well in Italy with a preview-boosted $4m, while it posted number one debuts in the likes of Argentina ($2m) and Poland ($1.5m).
Sing also took over at the top of the chart in Australia with a $2.5m second weekend for a local tally of $12.8m, and still had five major territories to open, starting with France on January 25.
Landing in France with $687k from 180 sites, Nocturnal Animals added $1.6m from its 30 territories for $15.4m. It opens in Belgium, Israel and South Korea next weekend.
THE GREAT WALL
UPDATE: Legendary and Universal's The Great Wall sliced to a further $11.2m from its 20 territories for $182.6m to date.
Zhang Yimou's epic action-fantasy, starring Matt Damon, landed top in Indonesia with an excellent $2m from 230 sites and also nabbed top spot in the likes of the UAE ($1.1m) and the Middle East ($924k).
It opens next weekend in France, Germany, Austria, Switzerland, Cyprus and Poland.
ASIAN TITLES
Some Like It Hot (Qing Sheng) added an estimated $11.3m from its two territories for $50.8m to date, according to comScore.
Action comedy Railroad Tigers grossed $5.6m from its seven territories for $84m, while South Korean crime drama Master took $4.6m from its three territories for $41.7m.
WARNER BROS PICTURES INTERNATIONAL
UPDATE: Collateral Beauty grossed $7.2m from its 47 territories for $30.4m ahead of its opening in Australia next weekend.
The Will Smith drama enjoyed an excellent opening in Italy with $3.6m from its 394 screens, charting fourth but recorded the best per-screen average of the top five films in the market.
With no new openings, Fantastic Beasts And Where To Find Them conjured up an additional $6.2m from its 53 territories for $567m to date.
Sully stands at $113.5m.
PARAMOUNT PICTURES INTERNATIONAL
Revving into eight new markets, Monster Trucks added $5.6m from its ten markets for an early $9.3m.
The family outing enjoyed its best openings in Russia with $2.5m and Mexico with $1.2m, and arrives in Australia next weekend, followed by Germany on January 26 and Brazil on February 23.
Allied uncovered $3.4m from its 33 markets for $52.4m ahead of its openings in Italy, South Korea and Mexico next weekend.
LIONSGATE INTERNATIONAL
With no new major openings, La La Land danced to an extra $3.8m from its 37 markets for $34.1m to date.
The awards contender is now Lionsgate's second highest-grossing film ever in South Korea with $19.5m after five weeks, and it opens in Germany, Russia, Spain, Finland and the UK next weekend.