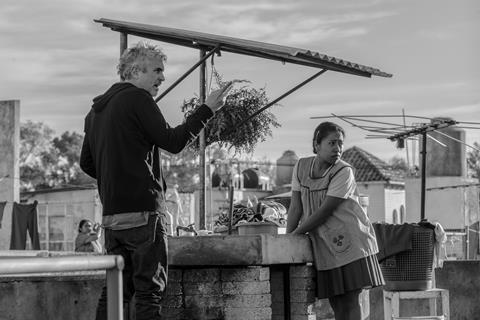 Alfonso Cuarón will receive the 30th annual Palm Springs International Film Festival's (PSIFF) Sonny Bono Visionary Award at the annual awards gala on January 3, 2019.
Cuarón is back in contention this awards season with ROMA, his Spanish-language, black and white family drama financed by Participant Media, who produced alongside Esperanto Filmoj.
Netflix handles worldwide distribution and is mounting a heavyweight awards campaign as it seeks its first best picture Oscar nomination. The film is also Mexico's official submission for the best foreign-language Oscar category.
Netflix launched ROMA in three US sites over the weekend, and in Mexico. The four-wall strategy means the streaming giant does not report box office grosses. Additional engagements are set for US markets and London starting on November 29, prior to international expansion. Netflix will debut the film worldwide on its platform on December 14.
ROMA is described as a semi-autobiographical tale and stars newcomer Yalitza Aparicio as a nanny for a middle-class family in Mexico City's Roma neighbourhood in the 1970s during a time of domestic and political upheaval.
Cuarón, who won the best directing Oscar and shared the best editing Oscar for Gravity in 2014, joins previously announced PSIFF honourees Glenn Close, Melissa McCarthy, Rami Malek and Green Book. Prior recipients of the Sonny Bono Visionary Award include Danny Boyle, Michel Hazanavicius, and Richard Linklater.
"Alfonso Cuarón's latest feature ROMA is a masterful achievement in filmmaking," said festival chairman Harold Matzner. "Drawing upon his childhood memories, Cuarón has created an emotionally driven story about a family growing up in 1970s Mexico City. A film he not only directed, but also was a writer, producer, cinematographer and editor.
"For his ability to take on many roles and for his expert storytelling of this subject matter, the festival is proud to present Alfonso Cuarón with the Sonny Bono Visionary Award."
PSIFF is scheduled to run from January 3-14, 2019.