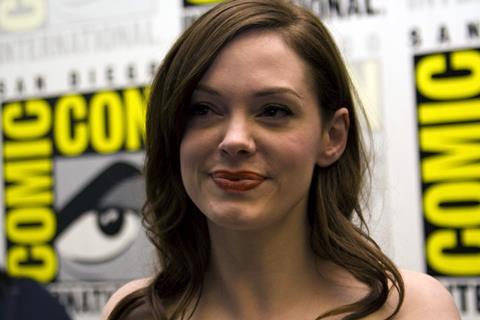 Rose McGowan, a vocal critic of male predators who on Friday addressed the inaugural Women's Convention in Detroit, has claimed someone close to Harvey Weinstein offered her $1m in hush money.
The development capped another flurry of news related to the disgraced former film mogul in which The Sopranos actor Annabella Sciorra claimed Weinstein raped her in the 1990s and sexually harassed her for decades, while Darryl Hannah said Weinstein sexually harassed her.
Speaking to The New York Times, McGowan, 44, claimed the offer came days before the first of two exposés ran earlier this month in The New York Times and The New Yorker in which multiple women alleged rape, sexual assault and sexual harassment against Weinstein.
McGowan said she countered with a request for $6m before instructing her lawyer to withdraw the request after the first article ran in the Times.
The actor and women's rights activist has spoken publicly of a 1997 incident in which a powerful Hollywood person allegedly raped her at the Sundance Film Festival. After the piece ran in The New Yorker, McGowan said her assailant was Weinstein. She agreed to a $100,000 settlement with the mogul in 1997 and said last summer she discovered the settlement did not include a confidentiality clause.
Speaking at Friday's inaugural Women's Convention in Detroit, McGowan said: "I have been silenced for 20 years. I have been slut-shamed. I have been harassed. I have been maligned and you know what? I'm just like you. Because what happened to me behind the scenes happens to all of us in society and that cannot stand and it will not stand.
On Friday the filmmaker Robert Rodriguez, who dated McGowan from 2006-2009, said he cast her in a take-no-prisoners role in Grindhouse, which The Weinstein Company division Dimension was making, to spite Weinstein. Rodriguez said he did not speak up about McGowan's ordeal out of respect for the NDA she signed in 1997.
A spokesperson for Weinstein had not replied to comment on McGowan's claim about the $1m offer at time of writing. A spokesperson previously said Weinstein denies "unequivocally" any allegation of non-consensual sex.