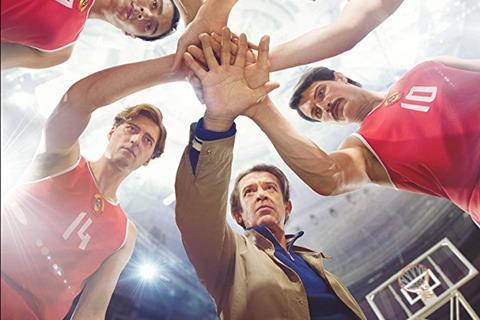 At the end of every year, Russia's box office is given a sizeable boost by the release of the biggest local film of that year in the late December holiday period. This happened to spectacular effect at the end of 2017 when Three Seconds (also known as Going Vertical) appeared in Russian cinemas on December 28.
The film, which celebrates Russia's triumph against the US basketball team at the 1972 Olympic Games in Munich, stayed on screens well into 2018 and turned into one of the biggest local successes of all time, grossing more than $37m this year since January 4. It is the top film of 2018, comfortably outperforming Avengers: Infinity War, the second ranking title at $32.5m.
As with 2017, more than 100 films made at least $1m at the Russian box office in 2018 - a sign of the newfound resilience of the sector. Russian box-office receipts topped out at $841m in 2017. The momentum continued into 2018 thanks largely to Three Seconds. There should be another end-of-year leap in attendance with the arrival of Second World War tank epic T-34 on 2,000 screens in the same December slot occupied by Three Seconds in 2017.
In terms of cinema admissions, Russia has now outstripped France to become Europe's biggest market: 212.2 million tickets were sold in 2017, and 2018 is expected to be similar.
The average ticket price is just over $4 and both admissions and box office have been steadily growing over the past five years. Piracy has been partly curbed, screen numbers have increased and box-office reporting has become more transparent.
The spectacular start to 2018 was not entirely sustained. The second most popular Russian film of the year was skating musical melodrama Ice, but its box office ($22.6m) lagged far behind Three Seconds. Ice was fourth overall in the box-office charts behind Venom (Sony's strongest ever performer in Russia), Avengers: Infinity War and Three Seconds.
The FIFA World Cup, held this year in Russia, did not help cinemas. The Russian football team performed well beyond expectations, reaching the competition's quarter finals and thereby engaging spectators who might otherwise have spent more of their leisure time watching movies. However, the World Cup was at least partially responsible for one of the year's biggest local hits, The Coach (Trener), released by Central Partnership. The film, directed by and starring Danila Kozlovsky (described as the Tom Cruise of Russia) as a disgraced former player who redeems himself as coach of a small-town team, grossed $13m.
Russia's Ministry of Culture continues to introduce measures to bolster local market share. A proposed distribution levy on foreign films was abandoned after an outcry from local distributors. Instead, a 3% tax has been proposed on cinema tickets, the proceeds from which will feed back into local production.
The Russian government was accused of trying to reduce the dominance of Hollywood films through age restrictions (making it impossible for children to see certain US studio films). Even so, Hollywood titles have still performed very strongly. Eight of the top 10 in 2018 were studio releases.
On a positive note, even certain Russian arthouse films have found significant audiences. Holocaust-themed drama Sobibor (Russia's foreign-language Oscar candidate) grossed more than $5m while Aleksey German's Dovlatov, about a dissident Russian writer, made more than $2m when it was released in the spring by Sony/Disney.
Disney, Sony, Universal, Fox and Warner Bros are the dominant distributors with Central Partnership (which released Three Seconds) their biggest local competitor. Protectionist measures combined with a revival in home-grown production should ensure local market share continues to grow.