Russia's Supreme Court will hear the appeal against Ukrainian filmmaker's Oleg Sentsov's 20-year sentence on November 24.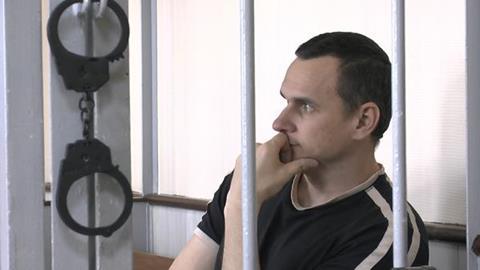 Speaking to Radio Svoboda, Sentsov's lawyer Dmitry Dinze said that the goal was the "unambiguous acquittal" of Sentsov and the activist Oleksandr Kolchenko.
According to Dinze, they were expecting the appeal to lead to "a reversal of the conviction, the referral of the case to a new judicial proceeding" that would lead to an acquittal.
This would be the maximum objective, Dinze suggested, while the minimum would be to see the length of Sentsov's 20-year sentence being reduced.
Sentsov and Kolchenko are currently being held in the SIZO-4 prison in Rostov-on-Don, but Dinze noted that there were apparently no plans to move Sentsov to Moscow for the hearing of the appeal.
Sentsov's lawyer told Radio Svoboda that he had visited his client about two weeks ago and found him to be in an optimistic mood and saw that he has been writing down creative ideas on paper for realisation as a film in the future.
In extracts from correspondence by Sentsov from his prison cell, he thanks everyone who has sent him letters of support and was happy to see that "in Rostov and generally in Russia, there are people who are doing something to fight for truth."
He also expressed support on his part for the Ukrainian helicopter pilot Nadezhda Savchenko who is currently being tried in Rostov for murder - "tell her that we are with her2 -, and sent "prison greetings from Rostov" to Oleg Navalny, brother of the Kremlin critic Alexey Navalny.
Leonid Petrashis, chairman of the public oversight committee for the Rostov region, visited Sentsov and Kolchenko last week and reported that they were both in good spirits and didn't believe that they would have to serve their full terms given to them by the Russian military court at the end of August.
Meanwhile, Sentsov's sister Natalya Kaplan has revealed that a hearing on Sentsov's behalf suing the Russian security services and mass media for defamation was postponed from yesterday (November 2) to December 1.
Petition at DOK Leipzig, screening in Molodist
The German Documentary Association AG DOK organised a petition at last week's DOK Leipzig calling on festival guests to sign a petition calling for the filmmaker's immediate release.
Askold Kurov's documentary Free Oleg Sentsov was shown as a "work in progress" at last week's Molodist International Film Festival in Kiev where a plaque bearing the filmmaker's name now adorns one of the seats in the city's legendary Zhovten cinema which reopened a year after an incendiary attack during the 2014 festival.
The Heidelberg branch of Amnesty International has joined a growing chorus of protest at the fact that the German city's authorities have not officially spoken out in support of Sentsov and Kolchenko who both hail from the Crimean town of Simferopol, Heidelberg's twin town.