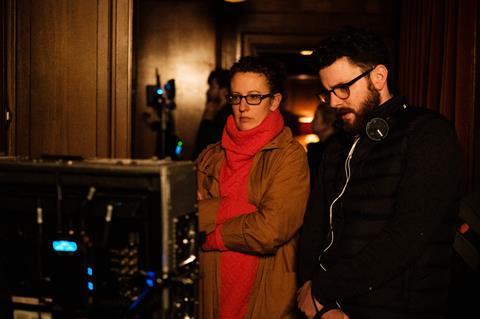 One of the few UK titles selected for this year's Sarajevo Film Festival is Rose Glass' psychological horror Saint Maud.
Programmed in the Kinoscope Surreal sidebar, the film was feted in Toronto but has been stuck in limbo due to the Covid-19 crisis, which saw cinemas close around the world.
"Just to see the brakes going on it, of course, it is frustrating," said Saint Maud producer Andrea Cornwell. "We were days away from getting on a plane and doing a Q&A tour around the States when lockdown happened. But the nice thing is the film had been launched at a bona fide audience-in-the-seats festival. And we've got fabulous partners in Studiocanal and A24 who remain very committed to the theatrical nature of the film."
Studiocanal is scheduled to release the film in the UK in October but US distributor A24 has yet to set a date.
The filmmakers and their distributors are "continuing to play it by ear," as Cornwell put it. "We want people to see it but we want people to be safe," she added. "If there wasn't going to be a safe theatrical environment, then we would want audiences to see it above and beyond any other interest we have in keeping it [the release] as purely theatrical."
"We feel fortunate that we actually managed to have a real festival experience pre-lockdown," the producer continued. "I've got friends who expected to have films launched this autumn, the product of years of work, and suddenly [screening] online it is not the same. It is very hard."
Saint Maud, handled internationally by Protagonist, has been sold worldwide. Diaphana took French rights and have it dated for November while Sony Pictures Worldwide Acquisitions secured the remaining international rights (excluding the UK).
Director Glass is now preparing a new project which Cornwell will again produce alongside Oliver Kassman. Project details are being kept under wraps but Cornwell confirmed that the feature is being developed with Film4. "It has got genre elements but it is not horror," she said. "It is set in the US and has a bigger visual palate. It is definitely expanding the universe we worked in with Saint Maud."
The plan was always to develop the film this year and shoot in 2021, which is still set to go ahead, pandemic restrictions permitting.
New projects
The prolific Cornwell has several other projects in the pipeline. Among them is a major new series with one of the major streamers, which is due to shoot in November and set to be announced in the coming days.
Cornwell is also working with writer-director Dylan Southern on a movie adaptation of Max Porter novel Grief Is The Thing With Feathers. It centres on a father with two sons who have just lost their mother. The father is an author and Ted Hughes expert, writing about Hughes' Crow. The crow comes to live with the family as they grieve.
The novel was previously adapted as a play by Enda Walsh, starring Cillian Murphy. The film version is at the financing stage.
"It's incredibly playful, inventive, a little bit frightening but very moving," said Cornwell of the story.
Alongside her dramatic features, she continues to produce documentaries and recently completed Into Dust, directed by Orlando Von Einsiedel (The White Helmets). Shot in India and Pakistan, it spotlights a woman in Karachi who exposes wholesale corruption in the water supply business. She is assassinated but her sister takes over the investigation.
Von Einsiedel was also behind 2014 documentary Virunga, on which US star Leonardo Di Caprio was an executive producer. A big-name US actor is also set to be announced shortly as exec producer of the new film.
Cornwell was formerly head of film for Grain Labs, the feature film arm of production company Grain Media, set up by the Virunga team. She is now independent again, working through her production company Lobo Films.
"Much in the way a director might move from project to project under their own banner, I take that idea behind my work," she added. "Some projects I may originate, some things may come to me at script stage. There are a whole range of different paths to how you end up boarding a project,"