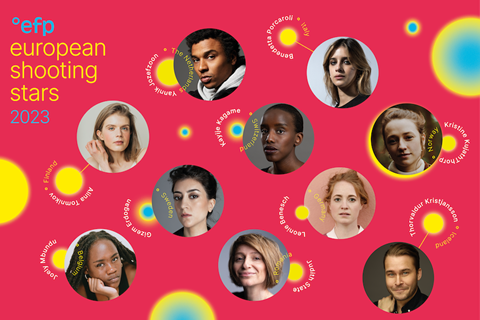 European Film Promotion (EFP) has selected 10 young actors for the 2023 edition of Shooting Stars, its talent portfolio for promising on-screen talent from the continent.
Selected actors for 2023 include Swiss actress Kayije Kagame, who made her feature debut in Alice Diop's Venice 2022 feature Saint Omer. Kagame has received plaudits for her role as Rama, a novelist attending a trial at the Saint-Omer Criminal Court which she plans to use for a modern-day adaptation of the ancient myth of Medea.
Scroll down for the full list of Stars
Having studied at Lyon's Ecole Nationale Superieure des Arts et Techniques du Theatre, Geneva-born Kagame has worked extensively as an artist, and is currently touring with installation piece Inner Life / Inner Night.
Italian actress Benedetta Porcaroli is also in the EFP selection, having appeared in Carolina Cavalli's Venice and Toronto 2022 title Amanda. Porcaroli's previous credits include the leading role in Netflix series Baby, a coming-of-age series about high schoolers in Rome; and Paolo Genovese's 2016 comedy Perfect Strangers.
Kristine Kujath Thorp, the Norwegian actress who led Kristoffer Borgli's Cannes 2022 Un Certain Regard title Sick Of Myself, has also been included; as has Joely Mbundu, who played the latter title role in the Dardennes brothers' Cannes 2022 entry Tori And Lokita.
The ten Stars – comprised of eight women and two men – were selected from a pool of 27 nominees by a jury comprised of Polish director Jan Komasa, Dutch casting director Rebecca van Unen, Norwegian producer Maria Ekerhovd, UK journalist Leo Barraclough and Spanish actress and former Shooting Star Veronica Echegui.
Tina Hajon, programme director of Shooting Stars, said the selection "is characterised by diversity in age, experience and cultural backgrounds but united in its representation of exceptional acting talent. They are all truly ready for international discovery."
Shooting Stars offers a four-day networking programme for the selected talent to meet journalists, casting directors, producers and filmmakers.
Previous talent to have been named Shooting Stars include Carey Mulligan, Riz Ahmed, Alicia Vikander, Alba Rohrwacher, Daniel Bruhl and Alba Baptista.
European Shooting Stars 2023
Joely Mbundu (Belgium)
Alina Tomnikov (Finland)
Leonie Benesch (Germany)
Thorvaldur Kristjansson (Iceland)
Benedetta Porcaroli (Italy)
Yannick Jozefzoon (Netherlands)
Kristine Kujath Thorp (Norway)
Judith State (Romania)
Gizem Erdogan (Sweden)
Kayije Kagame (Switzerland)