Martin Turk's A Good Day's Work selected for new initiative.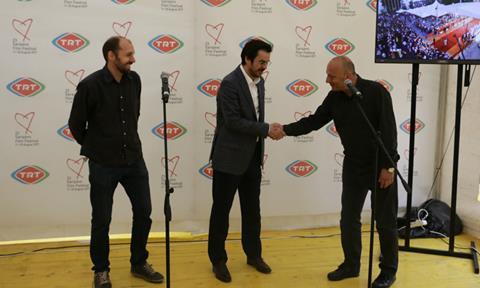 The Sarajevo Film Festival and Turkish national public broadcaster TRT are teaming to fund and produce a microbudget feature film from the Balkan region.
The selected project is Martin Turk's A Good Day's Work, which will be shot in Sarajevo in October 2017.
Turk, a graduate of the Academy of Theatre, Radio, Film and Television in Ljubljana, has previously made a series of successful short films including Every Day Is Not The Same, which premiered in Directors' Fortnight at Cannes Film Festival in 2008.
He was also a second assistant director on Danis Tanovic's Oscar-winning drama No Man's Land. A Good Day's Work will be his second narrative feature after 2012 drama Feed Me With Your Words.
The project has been selected for the pilot edition of Sarajevo City of Film for Global Screen, a new initiative from Sarajevo Film Festival and TRT that is aiming to produce microbudget feature films from the region.
The initiative will finance the project with €200,000 ($236,000), and will also support the development process, supervise production, and help to place the film in the international marketplace.
A Good Day's Work is a character-driven social drama that tells the story of a Andrej, an ordinary man struggling to find his place in life. Radislav Jovanov Gonzo has joined the project as DoP and casting is now underway.
Mirsad Purivatra, director of the Sarajevo Film Festival, commented: "Sarajevo City of Film for Global Screen offers filmmakers from our region the chance to have a film financed and made quickly, and seen by large audiences on TV and in cinemas. So we were not surprised, but very happy, to see strong interest and a large number of applications. We can't wait to see the finished film next year, and hope to share it with audiences at the 24th Sarajevo Film Festival."
Ibrahim Eren, director general, TRT, added:
"Our interest in Sarajevo Film Festival is a reflection of the cultural legacy shared between Turkey and the Balkan region. The film industry is somehow an intersection between culture and economy and we see the partnership between TRT and Sarajevo Film Festival as a beginning with great potential. Through this project we can support the creativity and film talent in the Balkans, and at the same time bring the selected film to the audiences of one of the biggest TV networks in the region and Europe."