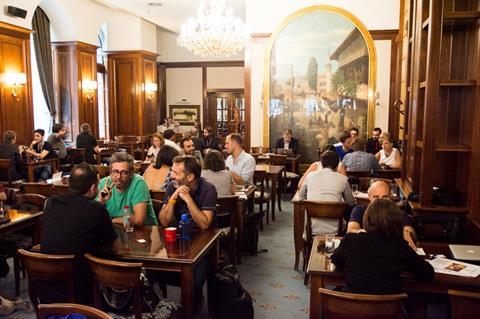 Sarajevo Film Festival's CineLink Industry Days has chosen nine feature projects from Southeast Europe and the Middle East/North Africa region for its work-in-progress strand.
The seven fiction and two documentary projects will be presented online to industry professionals, with the aim of assisting completion and enhancing distribution possibilities.
The projects will compete for three awards: the Post Republic award (€50,000 in kind), the CineLink Iridium award (€20,000 in kind), and the Turkish National Radio Television award (€25,000 in cash).
The five-person jury selecting the winners consists of Vanja Kaludjercic, new festival director at International Film Festival Rotterdam; Tobias Pausinger, head of acquisitions and development at German sales company The Match Factory; Elise Jalladeau, general director of Thessaloniki International Film Festival; Petra Gober, producer at German postproduction house The Post Republic; and Esra Demir Kiran, journalist at Turkish National Radio Television.
"This year's selection is one of the possible answers to the question how the film industry is responding to the pandemic," said Amra Bakšić Čamo, head of CineLink. "We have received more than 70 projects in different production stages and even these numbers demonstrate that the regional cinema is alive and kicking."
Earlier this week Sarajevo Film Festival switched to a fully-online event due to a spike in coronavirus cases in Bosnia. It had previously been one of the few major events attempting to hold a physical edition this summer.
Selected projects
Easter (Geo) - documentary
Dir-prod: Nikoloz Bezhanishvili
Prod co: Nikadocfilm
Moon 66 Questions (Gr-Fr)
Dir: Jacqueline Lentzou
Prod: Fenia Cossovitsa, Co-prod: Fiorella Moretti
Prod co: Blonde, Luxbox Films
Ulbolysyn (Kaz-Fr)
Dir: Adilkhan Yerzhanov
Prod: Olga Khlasheva, Co-prod: Guillaume de Seille
Prod co: Short Bothers, Arizona Productions
Vera Dreams Of The Sea (Kos-N Mac-Alb)
Dir: Kaltrina Krasniqi
Prod: Shkumbin Istref, Co-prod: Ognen Antov, Dionis Papadhimitri
Prod co: Isstra Creative Factory, Dream Factory, Papadhimitri Film Production
The Maiden's Pond (Leb)
Dir: Bassem Breche
Prod: Jana Wehbe, Co-prod: Tania El Khoury
Prod co: The Attic, Les Films de L'Altai
The Last Projectionist (Pal-Ger) – documentary
Dir: Alex Bakri
Prod: Thomas Kaske, Co-prod: May Odeh
Prod co: Kaske Film, Odeh Films
Streams (Tun-Fr-Lux)
Dir: Mehdi Hmili
Prod: Moufida Fedhila, Co-prod: Marie-Pierre Macia, Claire Guédea, Donato Rotunno, Yasmine Clandestino
Prod co: Yol Film House, MPM Film, Tarantula, Clandestino
Ela Ile Hilmi & Ali (Tur)
Dir: Ziya Demirel
Prod: Anna Maria Aslanoglu, Co-prod: Tanay Abbasoglu, Dirk Engelhardt, Öykü Canlı
Prod co: Istos Films, TN Yapim, Yumurta Yapım Sanat
Snow And The Bear (Tur-Ger-Ser)
Dir: Selcen Ergun
Prod: Nefes Polat, Co-prod: Michael Eckelt, Selcen Ergun, Miloš Ivanović
Prod co: Nefes Films, Riva Film, Albino Zebra Film, Set Sail Films