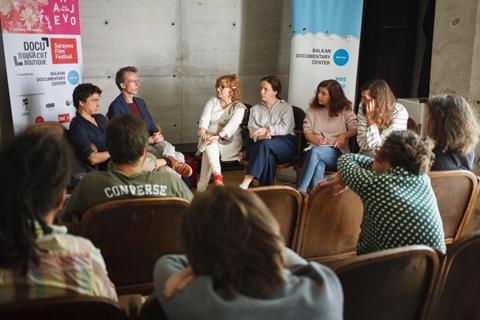 Docu Rough Cut Boutique, the initiative organised by Sarajevo Film Festival in collaboration with the Balkan Documentary Centre, has selected the five projects this year's workshop.
Now in its 9th edition, Docu Rough Cut focuses exclusively on documentary films from South East Europe and the Caucasus region, currently in post-production.
The boutique is expanding from last year, running for the first time across three modules. The first workshop was held in Budapest at the end of March, the second was programmed for June in Sofia, and at Sarajevo Film Festival there will be the closing session where the projects will be presented to a group of decision-makers.
This year's judges panel consists of Catherine Le Clef (CAT&Docs), Laurien ten Houten (IDFA), Hanka Kastelicová (HBO Europe), Cristian Nicolescu (Digital Cube) and Leena Pasanen (DOK Leipzig).
Five awards will be given out to the participants of this section: the Digital Cube Award (€20,000, in kind), the HBO Award (€2.000), the CAT&Docs Award (€2.000), IDFA Award (invitation to IDFA 2019), and a DOK Preview at DOK Leipzig 2019.
From the last edition of Docu Rough Cut Boutique, Siniša Gacić's Daughter Of Camorra is to return to Sarajevo this year's documentary competition, while The Magic Life Of V by Bulgarian director Tonislav Hristov was screened at Sundance.
This year's Sarajevo Film Festival runs from August 16 to 23, opening with Ines Tanović's The Son.
Docu Rough Cut Boutique 2019 projects
The Divas (Hun)
Dir: Máté Kőrösi
Holy Father (Rom)
Dir: Andrei Dascalescu
In Praise Of Love (Ser)
Dir: Tamara Drakulić
Legacy (Bul)
Dir: Petya Nackova
It's Her Her Story (Hun)
Dirs: Asia Dér, Sára Haragonics