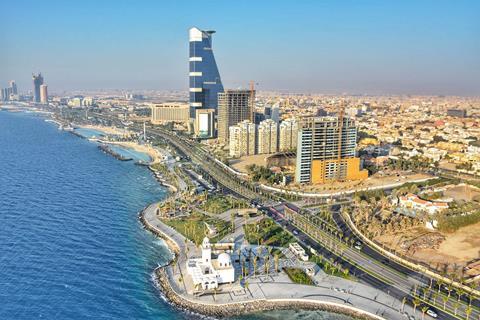 Saudi Arabia's new Red Sea International Film Festival (RSIFF) opens in the country's second-largest city of Jeddah on Monday evening (December 6), opening with Joe Wright's musical Cyrano, starring Peter Dinklage in the title role.
Wright is expected to attend the opening ceremony, taking place in a specially constructed outdoor theatre in the port city's 1,400-year-old historic quarter of Al-Balad, which will serve as the festival hub.
The UK director will be among around 1,000 international guests expected to attend the festival, Covid-19 travel restrictions permitting, which runs until December 15.
"It felt like the perfect film to announce that the party is getting started," says RSIFF artistic director Edouard Waintrop of Wright's musical comedy.
First announced in 2019, RSIFF was originally scheduled to launch in March 2020, but the edition was cancelled at the eleventh hour due to the Covid-19 pandemic, even though much of the programme was in place.
Nineteen months later, the festival arrives four years to the week that Saudi Arabia first announced the end of a 35-year cinema ban as part of its 2030 Vision plan to diversify the economy away from oil and transition the country towards a more moderate form of Islam.
Bannered "Metamorphosis", RSIFF's inaugural edition is seen as a landmark moment for Saudi Arabia and the film industry that has started to build since.
It will also be a testing ground for whether the international film industry is ready to embrace Saudi Arabia's nascent cinema business at a time when the country's human-rights track record remains under fire over issues such as the murder of Saudi journalist Jamal Khashoggi, its military intervention in the Yemen civil war and the suppression of LGBTQ+ rights.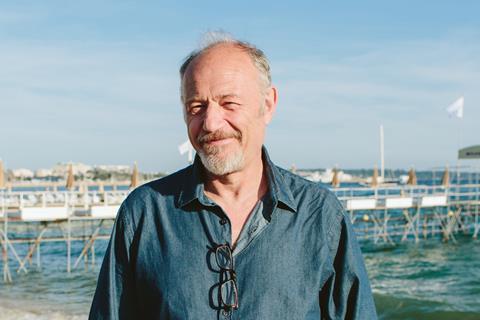 "I've lost friends," admits Edouard Waintrop, who was announced as the artistic director for RSIFF's inaugural edition in June. "But my goal is simple: in a country where cinema was banned for 35 years, I want to show the sort of arthouse films that aren't being distributed here yet – films that talk about politics, everyday life, relations between men and women, violence, films that will spark conversations and debate."
RSIFF managing director Shivani Pandya Malhotra acknowledges the political complexities in the backdrop but says the focus for her and her team is the burgeoning local industry and its filmmakers.
"All of us who are involved are very single-minded in that purpose," she says. "There is a huge amount of indigenous, creative people who live here that now have a platform and different opportunities to create content."
Pandya Malhotra reports plenty of international film professionals have been beating a path to the festival's door.
"We realised quickly that Saudi is a substantial market, and everyone is looking at it strategically. From that point of view, we felt that if we did all the right things with the festival and provided the right support, we would get the films we wanted."
Beyond the screening programme, Pandya Malhotra emphasises the importance of the festival's year-round talent and project development programme the Red Sea Lodge as well as its grants programme.
"All the different initiatives we've created mean we're able to follow the full cycle of films, supporting them from the development stage to the launch. People are looking at us not just as a festival but also as a platform that they can rely on for several things, not just showcasing and launching their film," she says.
The programme
Former Cannes Directors' Fortnight head Waintrop and his team of programmers, who include Antoine Khalife as head of Arab and classic films and Kaleem Aftab as director of international, have pulled together a programme of around 140 films.
They will screen across 11 sections including International Competition, which is dedicated to Arab, African and Asian cinema; Arab Spectacular; International Spectacular; and New Saudi/New Cinema, focused on local shorts and features.
Palestinian director Hany Abu Assad's Bethlehem-set spy thriller Huda's Salon, which world premiered in Toronto, opens the 16-title main competition on Tuesday (Dec 7).
Set against the backdrop of the murky world of intelligence gathering in the Palestinian territories, the multi-layered work stars Manal Awad as the titular Huda, a hairdresser who is caught while running a network of enemy informants out of her hair salon.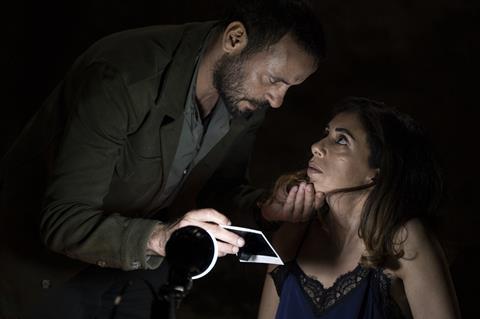 The tense drama, also co-starring Ali Suliman as her interrogator and Maisa Abd Elhadi as a young mother pressured into collaborating by intimate photos, throws up questions about attitudes in the region towards female victims of sexual abuse.
"It's a very strong film," says Khalife. "Putting it as the opening film of the competition is a statement. We didn't want something light. We wanted to open the competition with something that stamped the festival's identity and our identity as programmers."
The selection has been curated for both local and international audiences, he notes, citing titles like Jordanian director Zaid Abuhamdan's drama Daughters Of Abdul-Rahman in the Arab Spectacular strand as a feature that has been programmed with a female Saudi audience in mind.
"It's about four sisters – each of them very different – whose father goes missing. It says a lot about the position of women and the challenges they face in Arab society. We think it can talk to Saudi women and have planned a big gala event," says Khalife. "We don't know these Saudi audiences yet but we know local people are coming and we believe a film like this can work."
Other strong female stories include Algerian director Salah Issaad's debut feature Soula about a young unmarried mother who finds herself on the streets with her baby, which has its world premiere in competition. Further world premieres in that section include Tunisian director Nejib Belkadhi's black-and-white, Covid-19 lockdown drama Communion and Egyptian director Samir Nasr's prison drama Sharaf.
Italian director Giuseppe Tornatore will preside over the competition jury, which also includes Tunisian actress Hend Sabry, Palestinian-American director Cherien Dabis, Morelia International Film Festival founding director Daniela Michel and Saudi film director Abdulaziz Alshlahei.
Aftab, who oversaw the selection of international titles from outside the Arab world, says the whole team is still trying to gauge what will work with local audiences and how far they can push the envelope in terms of what is shown on screen.
"I was trying to look for films that were pertinent to Saudi Arabia, and how I judged that was by the sort of films I wanted to see as a young Muslim growing up in England and what would have inspired me," explains Aftab.
Among his selections are Egyptian-American director Dina Amer's You Resemble Me, which follows the trajectory of a young French-Moroccan woman caught in the crosshairs of the gang that carried out the Bataclan attack in Paris, and Indonesian filmmaker Kamila Andini's coming-of-age story Yuni, about a girl whose dreams of going to university are threatened by a series of marriage proposals.
"A film like You Resemble Me will play a lot more easily in Saudi than it did in Venice, while Yuni will introduce Saudi spectators to the cinema of a country they don't know, showing them Muslim lives that will be familiar to them," says Aftab.
"For me, success would be if a young Saudi sees one of the international films in the selection and then decides to go into film."