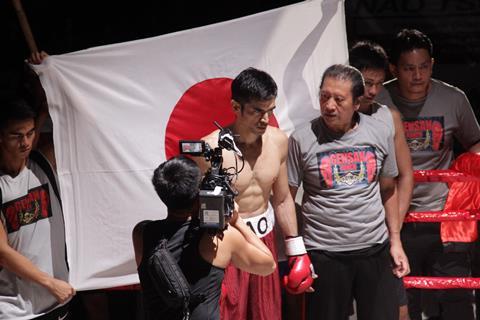 UK-based SC Films International has picked up international rights to Japan-Philippines co-production Gensan Punch, directed by award-winning Filipino filmmaker Brillante Mendoza.
Scheduled to wrap next month, the English-language film tells the true story of Japanese athlete Naozumi Tsuchiyama, who became a professional boxer despite having an artificial leg. The film follows him Japan to the Philippines, where he rose to fame in the 'Gensan' quarter, which has spawned boxing stars such as Manny Pacquiao.
Japanese actor Shogen (Street Fighter: Assassin's Fist, Death Note) plays the boxer, with Ronnie Lazaro, Beauty Gonzales and Kaho Minami rounding out the cast.
The film is co-produced by the Philippines' Center Stage Productions and Japan's Gentle Underground Monkeys. Production is taking place in the Philippines, as well as Okinawa and Fukuoka in Japan, with delivery expected at the end of the year.
SC Films will be presenting initial footage from the film at the upcoming virtual Cannes market (June 22-26).
Mendoza won best director at Cannes in 2009 for Kinatay and has also won awards at Venice for Thy Womb (La Navicella Venezia Cinema Award, 2012) and Berlin for Tirador (Caligari Film Award, 2008). Gensan Punch is his first sports biopic. "While we are used to creating different films, this particular genre is quite new to me, something exciting," said Mendoza.
The international sales deal was closed between Fumie Suzuki Lancaster from SC Films and Takahiro Yamashita from Gentle Underground Monkeys.
Yamashita said: "We are honoured to make a film with the great director, Brillante Mendoza, and his team. Luckily the shooting went well, just before the Covid-19 hit us."
Simon Crowe of SC Films said: "We've long admired Brillante's work from afar so it's great to be finally working with such a talented and acclaimed filmmaker. We're confident audiences around the world will respond as we have to the first footage."