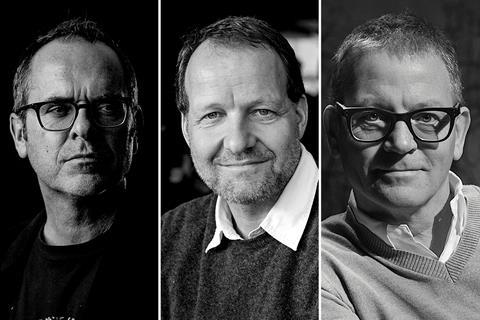 New private financing entity Scandinavian Film Funds (SFF) has revealed it plans to have raised its initial €15m in funding by the end of 2020.
In addition, its Scandinavian Film Distribution arm plans to distribute 60 to 70 films in the eight-year life cycle of the first fund and will only board distribution for films that are also backed by soft money from the region's major film institutes.
The outfit is headed by three well-known veterans of the Scandinavian industry: Christian Bévort, formerly of Metronome Film and TV; producer Kim Magnusson, former president of production at Nordisk Film; and former SF Studios Denmark CEO Michael Fleischer.
Funding comes from private equity investors, including a London-based venture capital fund owner and various Danish investors. The trio said they have been very active since launching in March, fielding pitches for 45 features, signing 15 letters of intent and three letters of commitment. Bévort added its current standing was "very satisfactory" especially in light of the Covid-19 situation. One silver lining of the pandemic is that Nordic producers are busy in development for new projects.
Fleischer said the outfit likes to board projects "as early as possible," while Magnusson added: "Our MG is part of the financing so we deal with the producers directly."
SFF is striking distribution deals mostly direct with producers, rather than international sales companies who wouldn't usually handle the Nordic deals for Nordic films.
Scandinavia already has two major distributors – SF and Nordisk - but Scandinavian Film Distribution hopes to provide another option for filmmakers. It differs from those outfits because it does not have output deals with the US studios and plan to handpick their films for release, about 10 to 12 per year. It will also usually ask for rights for only six years as opposed to the typical 10 to 15 years.
"We can allocate more time to each film and really nurture each project to take it to market it a special ways," said Magnusson. He added that while MGs will be the primary form of investment, the fund is structured so that they can also do co-financing and/or bridge funding on occasion.
Fleischer said: "The market has had an extremely positive response to what what we are doing."
Bévort noted the group was expecting another busy few months, after attending Haguesund's New Nordic Films market last week, and will head to Stockholm for meetings next month and be present at the Finnish Film Affair. The company is working with all genres of films.
They said they expect one of those projects to go into production very soon so SFF's first theatrical release will come by autumn 2021. Theatrical releases will be planned for all titles and some of the five territories, especially Iceland, could be sublicensed. As they are buying all rights, SFF also plans to sell on to platforms and broadcasters after the theatrical runs.
An office has been established in Copenhagen with further offices planned for Stockholm and Oslo by mid-2021.
Bévort said: "We're planning to also establish fund two and three, and the end goal in the next decade is to raise €100m in total that converts into €200m because we reinvest the revenues."