Bespoke event nurtured development of 33 DFI grantee projects.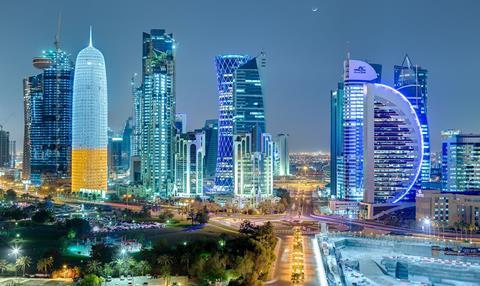 The Doha Film Institute's bespoke project development event Qumra, unfolding in Qatar's seafront capital March 4-9, proved a hit with attendees for a second year running.
Aside from a series of freak storms and an escaped pet tiger, which brought traffic on Doha's Corniche highway to a standstill as guests were transiting from one event to another, the event unfolded in the same intimate, cinema-focused atmosphere as last year.
A total of 33 DFI grantee projects were invited to Qumra's programme of master-classes, seminars and work-in-progress screenings, taking place between the modern palatial atrium of the Museum of Islamic Art and the boutique hotels of Doha's old Souk quarter.
Industry mentors, who numbered around 100, included German producer Roman Paul, Protagonist Pictures CEO Mike Goodridge, Front Row Filmed Entertainment MD Gianluca Chakra and Beirut-based exhibitor and distributor Hania Mroué as well as the festival heads and representatives of Rotterdam, Edinburgh, IDFA, Toronto, Locarno, Sarajevo and Cannes Directors' Fortnight.
Feedback from the Qumra Masters
US writer, director and producer James Schamus — returning for a second year, this time in the capacity of a "Qumra master" - said it had been an inspiring trip.
"Some of the young filmmakers here are often the most cinema-literate people you meet. They are digging deep precisely because they are not awash in that kind of careerist mentality that surrounds a lot of their North American and European peers."
Fellow 'Qumra master' Aleksandr Sokurov said he had been impressed by the programme and the filmmakers he had mentored.
"Usually it's very difficult to deal with beginner film-makers because they're not sure of themselves, they don't have clear ideas. But here I saw something very mature, and honestly I did not even feel comfortable to give them advice because they are really mature, they are really professional," he said.
One Qatari project which particularly captured his attention was Noor Al-Nasr's The Pearl about a teenager who time travels through an App on his phone back to the 1930s, a pre-oil boom age during which pearl fishing was a key source of income.
"It's a national topic, national actors from Qatar, but at the same time it's a very interesting modern plot. She [Noor Al-Nasr] had many practical questions – how to do it, how to organize it, how to launch it, how to choose the main character. One of her main characters is a 14-year-old boy and we discussed how this character is going to develop throughout the movie. He can be a brave, a romantic or not decisive person. The whole movie depends on these decisions. It's very interesting in its nature because I'm fascinated by the Arab world because it's a so-called border between different worlds," he said.
Other directors being mentored by Sokurov included Oliver Laxe whose Atlas Mountain-set The Mimosas was screened in Qumra's Picture Lock Feature Narrative section.
It is Laxe's second feature after You Are All Captains, which premiered in Directors' Fortnight in Cannes in 2010, where it won the Fipresci Prize. Aside from speaking to Sokurov, Laxe and his producer Felipe Lage Coro said it had been useful attending Qumra to get feedback from festivals and sales companies
"It has been useful in terms of raising awareness about our film among the festivals. Our first film was in Directors' Fortnight which we hope will work in the film's favour this way around but you can never tell, getting into Cannes is complicated," said Laxe.
DFI senior film programmer Chadi Zeneddine commented that a number of attendees of the first edition had expressed regret at not being at Qumra this year.
"I bumped into Khalid Abdalla at Berlin," said Zeneddine, referring to the Egyptian-British actor and filmmaker who was at the festival this year with In The Last Days Of The City. "He called Qumra his 'island of creativity'. It's not only about tutorial and business meetings, it's about people getting excited and passionate about cinema, even us."
Catch up with year's Qumra masterclasses:
Aleksandr Sokurov: "Cinema does not have any achievements"
Palme d'Or winner Nuri Bilge Ceylan: "Making mistakes is the best teacher"
James Schamus: Gulf can learn from China's box-office boom