The proposed development would see the studio grow to 78,000sq ft, but some MSPs have voiced scepticism over the project's scale and timing.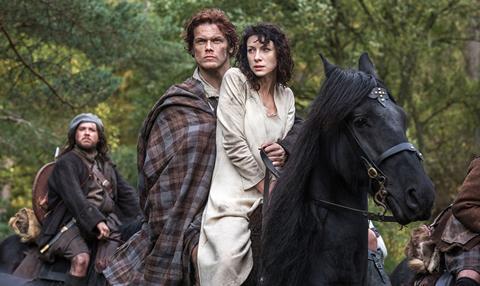 The owners of Wardpark Studios in Scotland are submitting a planning application to enhance the existing lot with an additional 30,000 square feet of converted studio space.
The new development, the latest in a series of applications for a new studio in Scotland, would be comprised of two 50 foot-high sound stages, as well as production offices, ancillary spaces and a back lot.
This would be in addition to the four current sound stages on the site, which cover 48,000 square feet of converted studio space, recently housing historical TV drama series Outlander [pictured].
Scottish culture secretary Fiona Hyslop said that ministers could provide up to $5.7m (£4m) to the project, including $2.1m (£1.5m) in grant funding and a further $3.6m (£2.5m) as a loan.
Negotiations have taken place over the potential deal between Wardpark Studios Limited and the Film Studio Delivery Group, a working group set up by Hyslop to explore potential opportunities for growing studio facilities in the country.
The group is led by Scottish Enterprise in association with the Scottish Government and Creative Scotland.
Hyslop commented: "We're seeing significantly increased activity in our screen sector. Wardpark Studios Limited's decision to seek planning consent for new studio facilities in Cumbernauld marks an important milestone in our work to strengthen the Scottish screen sector."
Natalie Usher, Creative Scotland's director of screen, described the extension as a potential fix to Scotland's need for a purpose built studio: "Converted and build space in Scotland that is currently being marketed compares favourably with similar space marketed by other UK nations, but we also need purpose-built space in order to compete effectively.
"We are working through the FSDG [Film Studio Delivery Group] to realise a purpose-built studio facility in addition to the existing full time converted space at Wardpark. We continue to investigate other potential options where there is interest from the market and appetite from private investors."
Terry Thomson, chairman of Wardpark Studios Limited, said of the plan: "With each production using the site, the benefits to the local and national economy are increased, reaching far beyond simply the studio and deep into the supply chain."
Some MPs from rival parties have expressed scepticism over the scale of the development.
According to the BBC, Conservative MSP Murdo Fraser said: "It seems to me that there has been a lot of heat around this issue, the government's been under pressure, there's an election coming up in eight weeks' time, and what you have done is produce a rabbit from a hat.
"Except it's not a very large rabbit, it's actually quite a small rabbit."
Johann Lamont, former leader of the Scottish Labour Party, added: "It doesn't seem like it's huge amounts of money and it seems to have taken a long time to get to that point," highlighting the proximity of the forthcoming Scottish Parliament Election in May.
The Association of Film and Television Practitioners Scotland added its voice to concerns, stating that the "expansion does not go far enough in making Scotland's screen sector compete with other nations and regions".