Screen International is today unveiling its 2014 UK Stars of Tomorrow, profiling rising actors, writers, directors, producers and heads of department.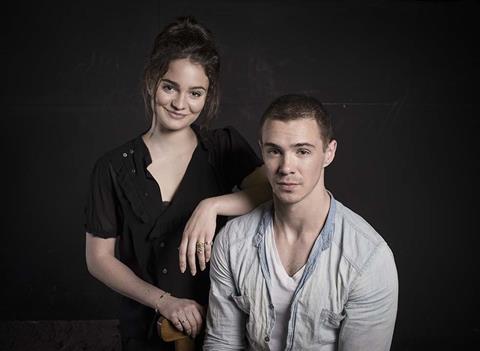 The 2014 Class of Screen International UK Stars of Tomorrow are: (click on each name for individual profile)
THE ACTORS
Jamie Blackley
The South London native will star opposite Chloe Grace Moretz in If I Stay for Warner Bros/MGM.
Olivia Cooke
The 20-year-old Manchester native is already a familiar face in the US, where she stars in TV series Bates Motel.
Sophie Cookson
The Oxford School of drama graduate landed the female lead in Matthew Vaughn's Kingsman: The Secret Service.
McKell David
At just 17, this Harrow teenager is a veteran of his own YouTube show and will star in three new features: Don't Grow Up, Legacy and Montana.
Calvin Demba
The 20-year-old East Ender has just shot an episode of Babylon and will star opposite Olivia Colman and Tom Hardy in the big-screen adaptation of London Road.
Aimeé-Ffion Edwards
After starring opposite Mark Ryland on stage in Jerusalem, the 25-year-old Welsh born actress' role in Peaky Blinders is set to grow.
Taron Egerton
This Welsh 24-year-old has landed the lead in Matthew Vaughn's Kingsman: The Secret Service, opposite Colin Firth.
Aisling Franciosi
After a notable role in The Fall, Dublin-born Franciosi joined the cast of Ken Loach's Jimmy's Hall.
Mia Goth
After her breakthrough in Nymphomaniac, the well-travelled young Catford resident will play the daughter of Josh Brolin and Robin Wright in Everest.
Kevin Guthrie
The Scotsman had to choose between football and acting – and with projects including Sunshine on Leith and Terence Davies' Sunset Song, it appears he made the right choice.
Edward Holcroft
The Central Saint Martins' graduate has landed the role of George Boleyn in the BBC's Wolf Hall.
Sam Keeley
The young Irish actor takes the lead in Monsters: The Dark Continent and also has a choice role in Ron Howard's Heart of the Sea.
Jack Lowden
The Olivier Award-winning 23-year-old from the Scottish Borders will star in Wolf Hall and The Passing Bells, both for BBC One, and Joe Wright's Pan.
Kate Phillips
The 25 year old, completing her MA at Guildhall, will play Jane Seymour in the BBC's Wolf Hall, an impressive first role.
Eleanor Tomlinson
After The White Queen and Death Comes To Pemberly, the 22-year-old has the choice part of Demelza in the Poldark remake.
Callum Turner
The former Burberry model from Hammersmith lands the lead role in John Boorman's Cannes premiere Queen and Country.
Maisie Williams
At only age 17, Somerset native Williams is following up her lauded role in Game of Thrones (her first acting gig at age 12) with a meaty part in Carol Morley's The Falling.
THE FILMMAKERS
Michael Berliner
The Bedfordshire-born producer landed Judi Dench for one of his shorts and is now working on several features.
Sarah Brocklehurst
After producing BAFTA-nominated Black Pond, the 29-year-old producer is working on Weird and Animals.
Keri Collins
The Cardiff-born director made micro-budget feature Convenience and will next work on the film adaptation of DC Jackson's hit play My Romantic History.
Daniel Fajemisin-Duncan and Marlon Smith
After writing Run for Channel 4, the writing duo from South London are working on a BBC three-part series and a film called Gods of War.
Chris Foggin
The 28-year-old Durham native landed Judi Dench in his first short film and is now planning his second feature to star Submarine's Craig Roberts.
Matt Halsall and Simon Halsall
The Halsall brothers made a striking revenge-themed short in South Korea and are now developing their debut feature.
Aneil Karia
Ben Whishaw stars in this London-based writer-director's short film Beat and will also star in the follow-up feature.
Dawn King
The lauded young playwright, born in the West Country and now living in London, is adapting her own play Ciphers for the big screen.
Lynsey Miller
The Scotland-born, London-based writer-director worked on productions for Ruby Films before now developing Conception and Last Man Standing and working on her own script, Tracks.
Roberto Oliveri
The 24-year-old makes a very assured debut with his short film Compassion, funded by his work in a garage in Hertfordshire.
Simon Stephenson
The former doctor lost his brother in the Thai Tsunami and turned to writing; he has sold his hot story Frisco to the US and is working on five more scripts.
Phoebe Waller-Bridge
The RADA graduate actress-writer has had a hit one-woman show that she is now adapting for TV; she is also starring in two TV pilots and writing the next St Trinian's film.
Krysty Wilson-Cairns
The 26-year-old Glasgow native, who works nights in a Soho pub, has sold her hot sci-fi script Aether to top US producers.
HEADS OF DEPARTMENT
Si Bell
The Durham-born cinematographer has finished work on Orthodox and Electricity and is now shooting Tiger Raid in Jordan.
Laura Tarrant-Brown
The Central Saint Martins graduate is a production designer who has worked on the likes of South London-set Gone Too Far and Goa-set Jet Trash.
Rose Wicksteed
The casting director's big break came working with Ellen Lewis on Martin Scorsese's Hugo.
This annual feature in the pre-eminent international film industry publication spotlights up-and-coming actors and filmmakers that will be making waves in the years to come. Past talents spotlighted by the magazine include John Boyega (our 2011 cover star who has recently been cast in Star Wars: Episode VII), Carey Mulligan, Andrew Garfield, Robert Pattinson and James McAvoy.
Screen Contributing Editor Fionnuala Halligan curates the stars after considering hundreds of names each year. Halligan consults with industry experts including casting agents, talent agents, manager, producers and directors to find the hottest rising talents in Britain.
Halligan said: "Opening Stars of Tomorrow out to include talent from the republic of Ireland and young heads of department has been tremendously exciting…but now more than ever the pressure is on with the number of places.
"Everyone included this year is on the cusp of a hopefully stellar career in the British and Irish film industries and I hope people will take note. I'm very much looking forward to seeing how they fare in the future."
Wendy Mitchell, Editor of Screen International, added: "The stories behind this year's Stars are as compelling as the tales they tell on screen: the 26-year-old pulling pints at night in Soho while writing her sci-fi script for Hollywood; the doctor whose family tragedy compelled him to write; the girl whose first acting experience was on HBO's hit Game of Thrones; the young man whose pranks on YouTube lead to feature roles.
"We love being able to play a small part in helping grow the careers of this class of Stars. It will be inspiring to see where they go next."
The Stars will be toasted at a reception tonight at BAFTA, sponsored by 3 Mills Studios and Air New Zealand and supported by Creative Skillset and MAC.