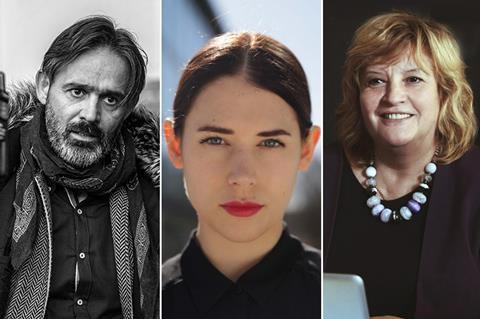 The latest in our ScreenDaily Talks live Q&A series will take place on Friday November 26 at 15:30 GMT (16:30pm CET/17:30pm EET), in which acclaimed Icelandic filmmaker Baltasar Kormákur and rising Swedish director Ninja Thyberg whose debut film Pleasure premiered at Sundance, will discuss what they have learnt and the advice they would give about working towards a sustainable career in international film.
The Talk is in partnership with Tallinn Black Nights Film Festival (POFF), which has launched Black Nights Discovery Campus, an international education programme that will offer ongoing courses, workshops and masterclasses for emerging film professionals.
Black Nights' festival director Tiina Lokk will discuss the new initiative and how it will help those working across a variety of departments in film.
Kormákur, the Icelandic film and TV producer and director, whose credits include action features 2 Guns, Everest and Adrift, is in Tallinn this week as a Discovery Campus mentor while Sweden's Thyberg is one of six directors nominated for the European Discovery 2021 – Prix Fipresci with her first feature Pleasure, which debuted at Sundance.
The Talk will include a live Q&A in which the audience will be able to ask questions to the panellists; we can also take advance questions at orlando.parfitt@screendaily.com.
The webinar will be available to watch on Screendaily.com after it has taken place.
The speakers
Baltasar Kormákur is an Icelandic actor, theatre and film director, and film producer. His features range from Icelandic features — starting with the Toronto Discovery Award-winning 101 Reykjavik in 2000 and 2016's The Oath — to action-packed international films such as 2 Guns, Everest and Adrift. He owns Reykjavik Studios and is next directing survival thriller Beast, starring Idris Elba, which Universal Pictures has scheduled for release in August 2022.
Ninja Thyberg is a Swedish writer-director, whose feature debut Pleasure received the Cannes Label in 2020 before its premiere at the Sundance Film Festival. Thyberg graduated from the Stockholm Academy of Dramatic Arts in 2015, having previously won the Canal+ Award at Cannes' Critics' Week in 2013 with short Pleasure. Thyberg estimates she made around 20 shorts since 2008, including festival award winners Hot Chicks, Catwalk and Stallion. Her next project is Warner Bros' remake of The Witches Of Eastwick.
Tiina Lokk has been director of the Tallinn Black Nights Film Festival since founding the event in 1997. She is also a film professor, a member of the European Film Academy and a former member of the Estonian parliament.
The talk is sponsored by the Black Nights Film Festival.