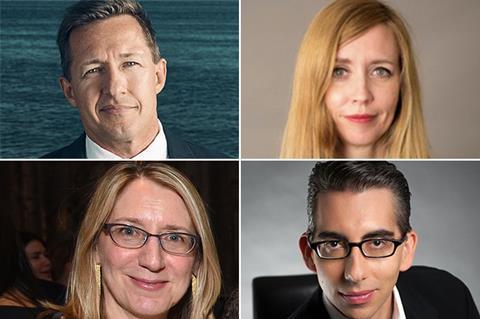 The latest in our ScreenDaily Talks live Q&A series will take place on Thursday November 5 at 5pm UK time (9am US West Coast) and will take the temperature of the independent film business on the eve of AFM 2020 Online.
This instalment is sponsored by the St Petersburg Clearwater Film Commission in Florida.
Key players in the film and independent sector will discuss the ongoing impact of the pandemic on their business, particularly production and sales. Panellists will discuss the challenges involved with getting back into production in a Covid-safe way, lessons learned, and what they have lined up. Ahead of AFM 2020 Online next week, the speakers will assess how the year's events have affected the sales sector, whether pre-sales remain viable, and what role the AFM has going forward in the life cycle of a film.
The speakers are: Tony Armer, St Petersburg Clearwater film commissioner, Florida; producer Kim Sherman; Arclight Films CFO Brian Beckmann; and Radiant Films International president Mimi Steinbauer. The moderator is Screen's Americas Editor Jeremy Kay.
The 30-minute discussion will be followed by a 30-minute live Q&A in which the audience will be able to ask questions to the speakers; advance questions can also be sent to Orlando.parfitt@screendaily.com. The webinar password will be emailed after registration.
The webinar will be available to watch on Screendaily after it has taken place.
Speakers
Tony Armer is the film commissioner of St Petersburg/Clearwater in Florida. Notable productions in the area include the Dolphin Tale franchise, Spring Breakers, and The Infiltrator. Armer has directed features such as Portrait Of A Superhero and Running With Demons, and is founder of the Sunscreen Film Festival.
Kim Sherman is a US-based producer and recently wrapped production on Ted Bundy thriller No Man Of God starring Elijah Wood, on which XYZ Films launched international sales at the Cannes virtual market. Her credits include the acclaimed home invasion thriller You're Next, as well as SXSW selections Wild Canaries, and Sun Don't Shine.
Brian Beckmann is CFO of Arclight Films, the sales, production and finance company with deep ties to the US and Australia and the Asia Pacific region. He oversees all legal, financial and accounting functions of the company and has spearheaded financing on more than $150m in productions. As a producer his credits include Paul Schrader's action thriller Dog Eat Dog with Nicolas Cage.
Mimi Steinbauer is the founder and president of Los Angeles-based sales agent Radiant Films and brings vast experience from the sales space. Steinbauer is currently selling Unplugging, a digital detox comedy that commenced production in Tulsa, Oklahoma, last month. Her sales slate includes drama Delia'sGone with Stephan James and Marisa Tomei, and Ashley Green thriller Aftermath.
This instalment of ScreenDaily Talks is sponsored by: