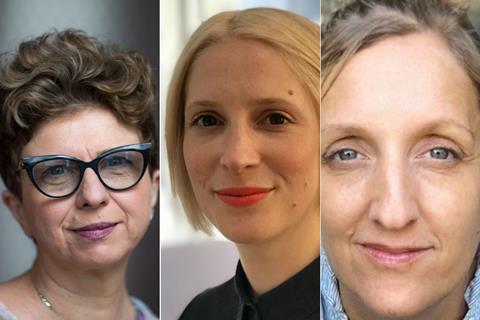 The latest in our series of ScreenDaily Talks will discuss the rise of genre filmmaking in the UK by women directors.
It will take place live at 15.00 BST on Thursday, September 30 and will last for 60 minutes, including an audience Q&A.
Filmmakers such as Corinna Faith (The Power), Prano Bailey Bond (Censor), Ruth Platt (Martyrs Lane), Ruth Paxton (The Banquet), Romola Garai (Amulet) and Rose Glass (Saint Maud) are playing with horror and genre tropes to probe a series of female-led issues and garnering arthouse plaudits as they do so.
The Talk will explore what is driving the flare in female genre filmmaking, the local and international market for these films, and the singular creative process involved in crafting a so-called genre film.
The speakers are Lizzie Francke, editor-in-large at the BFI Film Fund; Sophie Green, head of acquisitions and development at London-based Bankside Films; and writer/director Corinna Faith, whose debut film is the supernatural thriller The Power, now streaming on Shudder and in competition at Dinard Festival of British Film next month. The moderator will be Louise Tutt, deputy editor of Screen International.
The Talk is being held in partnership with the Dinard Festival of British Film, where The Power, Censor, The Banquet and Martyrs Lane are all screening as part of a special focus on horror films.
The speakers
Lizzie Francke
As editor-in-large at the BFI Film Fund, Francke works closely with UK writers and directors, both rising and established, to help bring their ideas to fruition. Most recently she has executive produced Corinna Faith's The Power which is screening in competition at Dinard and the BFI has also backed Censor and Martyrs Lane .
Sophie Green
Green is the head of acquisitions and development at the UK's Bankside Films, a company that specialises in authored genre films. Its slate presently includes Natalie Biancheri's Wolf and Kate Dolan's You Are Not My Mother.
Corinna Faith
Faith's made her feature writing and directing debut with The Power, a supernatural thriller set in a London hospital during the power cuts of the 1970s, starring Rose Williams. The film was developed by the BFI and Creative England, produced by Stigma Film and sold around the world by Altitude Film Sales, including to the Shudder platform in the US. It is now screening in competition at the Dinard Festival of British Film. Faith is a former Screen UK Star of Tomorrow.