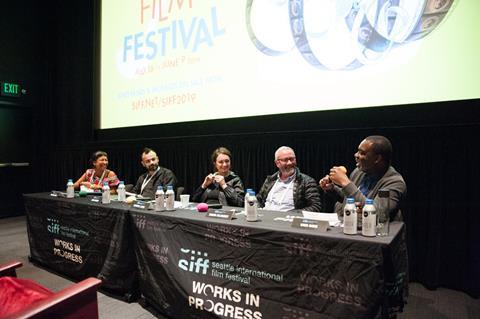 Seattle International Film Festival (SIFF) has announced the six industry mentors chosen for the virtual New Works-in-Progress Forum on April 15 and 16.
The 2021 WIP mentors for documentary are: funder-consultant Cecilia Lidin, film consultant Harry Vaughn, and producer Giedré Žickyté.
The 2021 WIP mentors for narrative are: journalist-programmer David Ansen, producer-distributor Sophie Mathisen, and film festival consultant and Screen International contributing editor, Nordic correspondent and former editor Wendy Mitchell.
The six industry mentors will combine with a select SIFF audience to watch projects in the final stages of editing and provide feedback.
The selected filmmakers are directors Lisa Leeman with Walk By Me aka Trans*formed, (USA, documentary) and Kaltrina Krasniqi, with Vera Dreams Of The Sea (Kosovo, narrative).
The forum will start at 9am PT and runs on the virtual SIFF Channel.