Production of Star Wars becomes biggest live immersive cinema production to date.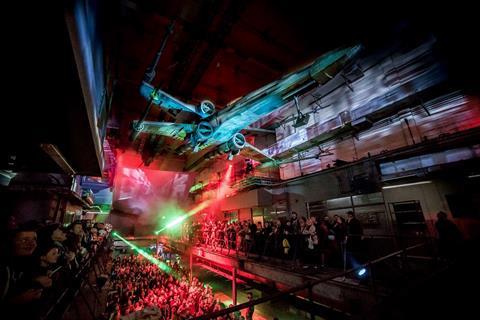 Event cinema specialist Secret Cinema has reported an audience of more than 100,000 for its latest production, which ended in London on Sunday night (Sept 27).
The 100-day run of Secret Cinema Presents Star Wars: The Empire Strikes Back closed as the biggest live immersive cinema production to date, claiming the title from Secret Cinema's production of Back to the Future in 2014.
After launching on June 4, the show spent more then 11 weeks in the UK Box Office Top 10 generating box office takings of $9.8m (£6.45m).
It was staged ahead of the release of Star Wars: The Force Awakens - the seventh instalment of the fantasy saga - which is out in cinemas worldwide from December 18.
Major production
Secret Cinema's team transformed a 10-acre site in Wapping, London - incorporating an old newspaper printing plant - into locations from Star Wars including the desert town of Mos Eisley and the Death Star.
The project took 10 weeks to assemble and a 400-strong production team as well as 70 actors, playing key characters such as Luke Skywalker and Darth Vader alongside stormtroopers and jawas.
Secret Cinema also hosted events outside of the main venue including a 'Secret Nightclub' and a dedicated shop titled Rebel X Stores.
Fabien Riggall, founder and creative director of Secret Cinema, said: 'We took over 100,000 adventurers to a galaxy far far away, building an epic world for one of the most loved films of all time whilst continuing to re-imagine the cultural experience. We are excited to build the next stage of Secret Cinema with our community."
Kathleen Kennedy, president of Lucasfilm, said: "Secret Cinema is a wonderful experience that integrates our much loved franchise into modern day immersive theatre.
"What the Secret Cinema team have done here is truly breathtaking - something that HAS to be experienced fully in order to appreciate how much fun it is."
Secret Cinema is next preparing to launch in the US.