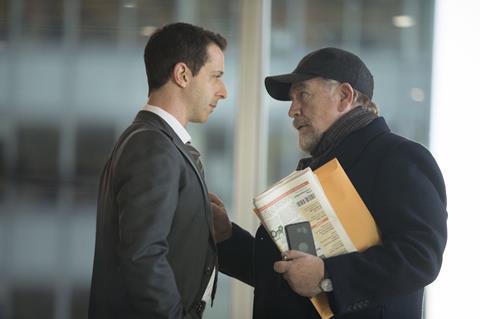 The world premiere of the 60-minute pilot episode of HBO's Succession, written by Jesse Armstrong, the UK creator of Peep Show and Fresh Meat, and directed by Adam McKay, whose credits include The Big Short and Anchorman, will open the ninth edition of Series Mania in Lille on April 27.
Brian Cox, Hiam Abbass and Matthew Macfadyen head the ensemble cast of Succession, which follows the travails of a dysfunctional media dynasty.
Additionally, the Official Competition is comprised of 10 world premieres of original global TV series. They include BBC and Sundance TV series The Split, created and written by Abi Morgan and directed by Jessica Hobbs, about a family of female lawyers, starring Nicola Walker. Also in Competition is Warner Bros and Paramount Network's American Woman, created by John Wells and starring Alicia Silverstone and Mena Suvari. It is about awoman single-handedly bringing up her two daughters in the 1970s.
The Official Competition jury is headed by US writer and producer Chris Brancato, co-creator of Narcos, with Israel's Maria Feldman, co-creator and producer of False Flag which won at Series Mania in 2015, and actor Clovis Cornillac and screenwriter and novelist Pierre Lemaitre, both from France. They will award the Grand Prix and Special Jury Prize, and awards for best actress and actor.
There will also be screenings of the first two episodes of the second season of Hulu's The Handmaid's Tale and the fourth season of Nimbus Film's The Bridge as part of the New Season Premieres strand.
In addition to a French Competition, Series Mania's other sections are International Panorama, the Best of the USA, Comedy Marathon and a series of Competition Shorts.
The French premiere of the first two episodes of the first season of X-Filme Creative Pool's Babylon Berlin will close Series Mania.
The event, which runs from April 27-May 5, is being held in Lille for the first time this year. It previously took place in Paris. It opens after the end of the inaugural edition of Canneseries (April 4-11).
Official Competition (all world premieres)
Ad Vitam (Fr) Episodes 1& 2
Created by Thomas Cailley and Sébastien Mounier
Dir: Thomas Cailley
Prod co: ARTE France
Cast: Yvan Attal, Garance Marillier,
Intl sales: Lagardère Studios Distribution
American Woman (US) Episodes 1-3
Exec prods: John Wells, John Riggi
Dir: Alex Hardcastle
Cast: Alicia Silverstone, Mena Suvari
Worldwide dist: Warner Bros Television/Paramount Network
An Ordinary Woman (Rus) Episode 1
Created by Valeriy Fedorovich, Evgeniy Nikishov
Dir: Boris Hlebnikov
Prod co: 1,2,3 Production, TV3 Channel
Cast: Anna Mihalkova, Boris Hlebnikov,
Intl sales: TV3 Channel
Autonomies (Israel) Episodes 1 &2
Created by Yehonatan Indursky and Ori Elon
Dir: Yehonatan Indursky
Prod co: United Studios of Israel
Cast: Assi Cohen, Shuli Rand,
Intl sales: Keshet International
Il Miracolo (It-Fr) Episodes 1&2
Created by Niccolò Ammaniti
Dirs: Niccolò Ammaniti, Francesco Munzi, Lucio Pellegrini
Prod cos: Sky, Wildside, ARTE France, Kwaï
Cast: Guido Caprino, Alba Rohrwacher
Intl sales: FremantleMedia International
Mystery Road (Aus) Episodes 1&2
Scrs: Michaeley O'Brien, Steven McGregor, Kodie Bedford, Jon Bell, Tim Lee
Dir: Rachel Perkins
Prod cos: Bunya Productions, ABC
Cast: Aaron Pedersen, Judy Davis
Intl sales: all3media
On the Spectrum (Israel) Episodes 1 -3
Created by Dana Idisis, Yuval Shafferman
Dir: Yuval Shafferman
Prod co: Sumayoko Mtd
Cast: Niv Majar, Neomi Levov
Intl sales: Yes Studios
The Rain (Den) Episodes 1 & 2
Created by Jannik Tai Mosholt, Christian Potalivo, Esben Toft Jacobsen
Dirs: Kenneth Kainz, Natasha Arthy
Prods: Miso Film
Cast: Mikkel Boe Følsgaard, Alba August,
Intl sales: Netflix
The Split (UK) Episodes 1&2
Created by Abi Morgan
Dir: Jessica Hobbs
Prod co: Sister Pictures, Sundance TV
Cast: Nicola Walker, Deborah Findlay,
International sales: BBC Worldwide
Warrior (Den) Episodes 1&2
Scrs: Christoffer Boe, Simon Pasternak
Dir: Christoffer Boe
Prod co: Miso Film
Cast: Dar Salim, Danica Curcic
Intl sales: FremantleMedia International