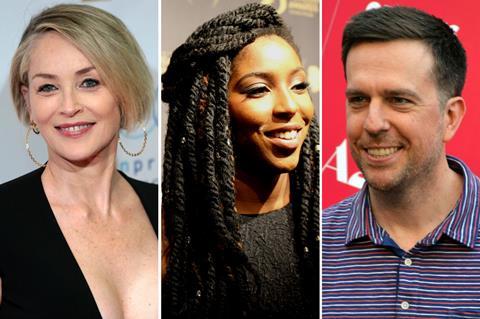 Sharon Stone, Jessica Williams (The Incredible Jessica James) and Ed Helms (The Hangover) will star in comedy Corporate Animals, which Protagonist Pictures is launching to buyers in Cannes.
Patrick Brice (Creep) is directing from a screenplay by Sam Bain (Four Lions). Set to shoot this summer on location in New Mexico, the film will follow the egotistical CEO of a firm that makes edible cutlery (Stone). During a team-building weekend caving in Mexico, disaster strikes, trapping them underground.
Keith Calder and Jess Calder of Snoot Entertainment (Anomalisa) will produce alongside Mike Falbo and Ed Helms of Pacific Electric.
UTA and ICM Partners are co-repping rights for North America.
Says Protagonist CEO Dave Bishop: "Corporate Animals is one of the funniest scripts we've seen and actually a little close to the bone at times. This is not so much a reference to the occasional bit of cannibalism and more the office politics of a small business! Suffice to say, everyone at Protagonist loved it, it's tremendous fun and we think buyers will find it just as hilarious as we did."
Stone is repped by CAA and Mosaic. Williams is repped by UTA, B Company and law firm Morris Yorn. Helms is repped by UTA, Principato Young Entertainment, and law firm Schreck Rose Dapello Adams Berlin & Dunham. Patrick Brice is repped by ICM Partners. Sam Bain is repped by UTA, 42 Management in London, and law firm Jackoway Tyerman.