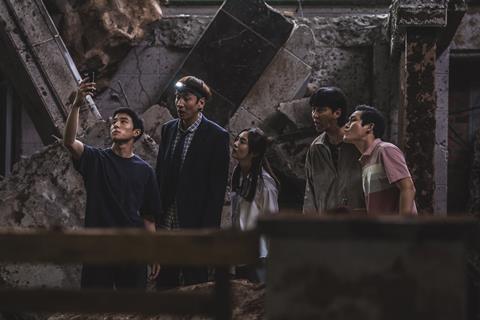 South Korean distributor Showbox has locked pre-sales deals on disaster drama Sinkhole to a raft of territories led by Taiwan (MovieCloud) and Hong Kong (Edko Films) following the virtual Cannes market.
The film has also sold to Indonesia (Falcon), Philippines (MVP Viva), and Singapore, Malaysia, Brunei, Vietnam, Laos, Myanmar, Cambodia and East Timor (Encore Films).
Directed by Kim Ji-hoon, whose credits include luxury high-rise inferno film Tower and sci-fi action thriller Sector 7, Sinkhole stars Cha Seung-won (Cheer Up, Mr. Lee), Kim Sung-kyun (Fengshui) and Lee Kwang-soo (Tazza: One Eyed Jack).
When Dong-won (Kim) and his family finally move into their own house bought after 11 years of hard work, he invites his colleagues for a housewarming party, but a heavy rain creates a giant sinkhole that swallows up the house and everyone inside. Hundreds of metres down, Dong-won, his guests and his neighbour Man-su (Cha) have to find a way out before the downpour fills the sinkhole.
Esther Yeung, head of sales & distribution at Edko Films, which previously distributed Kim Ji-hoon's Tower, said: "We are thrilled to work with director Kim Ji-hoon again. As he has powerfully visualised the impacts in Tower, the story of Sinkhole also tells [of] the threat and the potential disaster inherent in every city. I found this sense of real life crisis very timely and it's also something that our audience can immediately relate to today."
MovieCloud managing director Wayne Chang said the company decided to pick up Sinkhole as "a must-see film in 2020" as it is "full of action, disaster and Korean-style sarcastic humour" and "brings a spectacularly fun and exciting ride."
Sinkhole is currently in post-production. Showbox is in discussions for a local release date to be set for later this year.