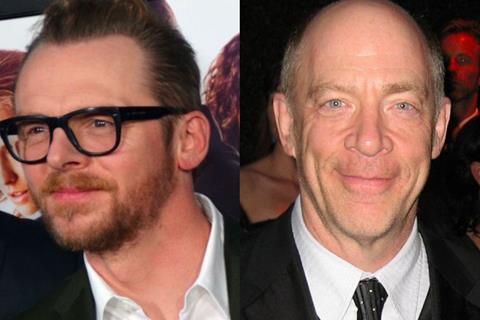 XYZ Films has added an appealing sales title to the Toronto market and will launch worldwide pre-sales next week on the comedy heist thriller My Only Sunshine starring Simon Pegg and J.K. Simmons.
The story centres on a dysfunctional couple who orchestrate a bank robbery as an unconventional act of marriage counselling. Mark Palansky (Penelope, Rememory) will commence directing later this year from a screenplay by J.T. Petty and K. Reed Petty. Another key character is a tenacious police officer.
Michael Mendelsohn's Union Patriot Capital Management is fully financing the project and Circle of Confusion and Patriot Pictures are producing. XYZ Films co-represents US rights with ICM Partners.
Circle of Confusion's Matt Smith and Lawrence Mattis are producing with Mendelsohn of Patriot Pictures. J.T. Petty, Natalie Perrotta, and Jim Steele are executive producers.
Pegg most recently starred in Lost Transmissions and will next be seen in the series The Dark Crystal: Age Of Resistance for Netflix. Simmons won the best supporting actor Oscar for Whiplash and most recently starred in Spider-Man: Far From Home. Next up is 21 Bridges for STX.
Mendelsohn said, "Such a gifted director and a cast of talented actors to lead this creative endeavor. This original, riveting, and hilarious storyline will captivate audiences."
XYZ Films' TIFF sales slate includes Special Presentation Synchronic starring Anthony Mackie and Jamie Dornan, Midnight Madness opening night film Blood Quantum and fellow selection Color Out Of Space starring Nicolas Cage, and Stowaway starring Anna Kendrick and Toni Collette.