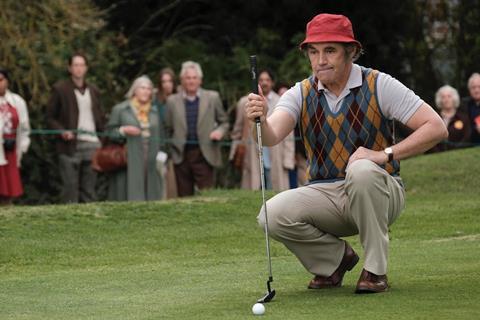 Sony Pictures Classics will release Craig Roberts' sports underdog tale The Phantom Of The Open in New York and Los Angeles on June 3 with a wider release to follow in additional markets.
Mark Rylance, Hawkins and Rhys Ifans star in the Water & Power Productions and Baby Cow Productions co-production about Maurice Flitcroft (Rylance), a relentless optimist who became a folk hero when he shot the worst round in British Open Golf Championship history.
Simon Farnaby adapted the screenplay from his book of the same name co-authored by sports journalist Scott Murray. The film premiered at BFI London Film Festival last year.
Kate Glover, Nichola Martin and Tom Miller produced and executive producers are Christine Langan and James Swarbrick, Cornerstone Films' Alison Thompson and Mark Gooder, Ingenious Media's Peter Touche and Christelle Conan, Mary Burke for the BFI and BBC Film's Rose Garnett and Emma Duffy. 
The Phantom Of The Open was developed by BFI, awarding funds from the National Lottery and BBC Film. Funding came from the BFI, BBC Film and Ingenious Media.