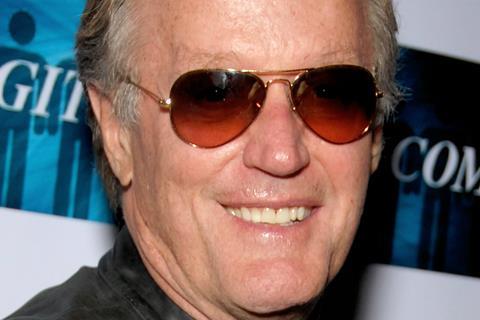 Sony Pictures Classics on Wednesday evening (June 20) branded an aggressive tweet by Peter Fonda aimed at President Trump's young son as "abhorrent, reckless and dangerous", yet confirmed it was going ahead with this weekend's release of Boundaries, in which the actor appears.

The company issued a forceful statement after Fonda posted a tweet earlier in the day in response to the US administration's widely reviled migrant separation policy, which the president overturned by executive order on Wednesday.
"We should rip Barron Trump from his mother's arms and put him in a cage with pedophiles and see if mother will stand up against the giant asshole she is married to. 90 million people in the streets on the same weekend in the country. f—," Fonda, 78, wrote of the US leader's 12-year-old son on the social media platform.
Fonda later deleted the tweet and apologised. First Lady Melania Trump's spokesperson labelled the tweet "sick and irresponsible" and it is understood the Secret Service was notified.
SPC issued the following statement on Wednesday evening: "Peter Fonda's comments are abhorrent, reckless and dangerous, and we condemn them completely. It is important to note that Mr. Fonda plays a very minor role in the film.
"To pull or alter this film at this point would unfairly penalize the filmmaker Shana Feste's accomplishment, the many actors, crew members and other creative talent that worked hard on the project. We plan to open the film as scheduled this weekend, in a limited release of five theaters."
The president's older son Donald Trump Jr. weighed in on Fonda's message, tweeting: "You're clearly a sick individual and everyone is an internet bada– but rather than attack an 11 year old like a bully and a coward why don't you pick on someone a bit bigger. LMK."
The US administration's border policy has fuelled intense bipartisan opposition and drawn fire from Hollywood.
Boundaries stars Christopher Plummer as a drug-dealing carefree man who bonds with his estranged daughter after he is booted out of a care home. Vera Farmiga also stars.