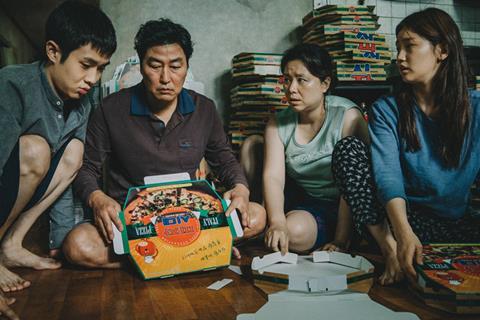 South Korea has selected Bong Joon Ho's Palme d'Or winner Parasite as its entry to the Academy Awards' best international feature film category next year.
Released by leading Korean studio CJ Entertainment, the family tragi-comedy starring Song Kang-ho is the first Palme d'Or-awarded film to make it past the landmark of 10 million admissions at the local box office. It took in $70.7m after its release on May 30, according to the Korean Film Council (KOFIC).
A selection committee put together by KOFIC and led by Jeonju International Film Festival executive programmer Kim Youngjin considered a total of eight films including Kim Bora's House Of Hummingbird, which won the Berlinale Generation 14plus section's Grand Prix this year, and Kang Hyoung-chul's Korean War dance drama Swing Kids, starring young K-pop virtuoso Doh Kyung-soo.
CJ Entertainment sold the film to an unprecedented 202 territories and has since announced record-breaking box office for a Korean film in territories such as France, where it clocked up more than 1 million admissions after a month on release from June 5.
In Vietnam, where it opened at number one at the box office on June 21, it became the top Korean film released there within 11 days, racking up $1.95m, according to CJ, surpassing Train To Busan, which had previously held the record with $1.86m.
The film has been opening around the world and is still set for release in September in the Czech Republic, Slovakia, Poland and Portugal. In October, it will open in North America, Germany, Spain and Greece, followed by November releases in Turkey, Romania and the Netherlands; December releases in Sweden, Italy and Hungary, with the UK and South America due to see the film in cinemas in the first half of 2020.