Spanish titles continue to fare well in Spain as local hit topped Minions, Star Wars: The Force Awakens and Jurassic World.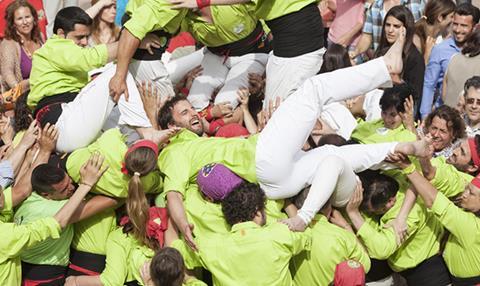 Spanish box office was up a healthy 9.4% year-on-year in 2015 with receipts of $618m (€572m).
Comedy sequel Spanish Affair 2 was the top-grossing local film, closing the year with $33.5m (€31m) under its belt, ahead of Minions' $26m (€24m), Star Wars: The Force Awakens' $24.5m (€22,6m), Jurassic World's $24m (€22,2m) and Inside Out's $22.7m (€21m).
Released on November 20 by Universal Pictures International Spain Spanish Affair 2 (Ocho Apellidos Catalanes) rapidly became a hit, fighting off competitors including The Hunger Games: Mockingjay - Part 2.
Gonzalo Salazar-Simpson of LaZona Films produced the hit with Weather Films AIE for Telecinco Cinema, which is part of Mediaset España.
The film's predecessor Spanish Affair (Ocho Apellidos Vascos), remains the most successful Spanish film ever having taken $60m (€56.2m) in 2014.
Spanish films took a healthy 18.9% market share of the box office last year, but that was down on 2014's 25.5%.
The local industry is seeing ongoing signs of recovery following a number of challenging years. Ramon Colom, president of the Spanish Producers Association FAPAE told Screen that "the best news is the clear sign that Spanish audiences are enjoying watching Spanish films, a much needed change in their perception".
Last year more than ten Spanish-language films took more than $1.1m (€1m). The top five after Spanish Affair 2 were Paramount's Atrapa La Bandera with $12m (€11m), Warner Bros.' Perdiendo El Norte, which took $10.9m (€10m), Universal's Alejandro Amenábar thriller Regression on $9.8m (€9M), and Sony's Ahora O Nunca with $8.7m (€8M).
2016 looks promising for local productions. The second weekend of January has seen the Atresmedia drama Palm Trees In The Snow top the box office with $2m (€1.9m), ahead of Star Wars: The Force Awakens' $1.9m (€1.78m) and the newly-released Joy with $1.08m (€1m).
Spanish Affair 2 was still playing well last weekend, coming in at number four in the chart taking $0.62m (€0.63m) seven weeks after its release.