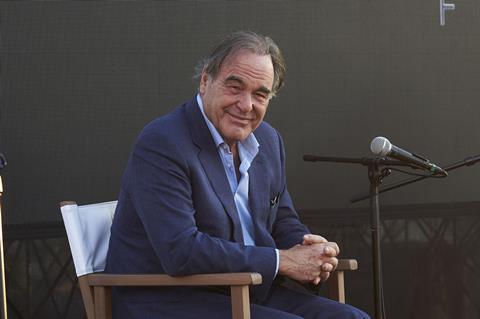 US filmmaker Oliver Stone has revealed the "anger" that still fuels him and praised the British talent that helped launch his career during a wide-ranging discussion in Venice.
The Oscar-winning director took part in a conversation while promoting the Italian edition of his autobiography, Chasing The Light, at an event organised by Giornate degli Autori, an independent sidebar of the Venice Film Festival.
Stone acknowledged the crucial role that British collaborators played early in his success. They included Alan Parker, the late director of Midnight Express, for which Stone wrote the screenplay and won his first Oscar in 1979.
Then, at a time when no US companies would take a chance on him, the London-based Hemdale Film Corporation backed Stone as a writer-director on his breakthrough features, Salvador and Platoon, both released in 1986.
"It was only because an English company came in and saved us that we were able to make a movie," said Stone of Hemdale's intervention on political thriller Salvador.
"[Hemdale co-founder] John Daly gave us just enough to make a very difficult film under impossible conditions with bombs, helicopters, death squads and 95 speaking parts, in two countries. It was a nightmare to make, but we made it and it was good."
The moment Salvador was complete, Hemdale sent Stone to the Philippines to make Vietnam War film Platoon.
"They gave me little bit more money, $6 million, but it wasn't a lot of money," he recalled. "We made every dollar go as far as it could."
Stone said that Platoon had a grit and realism lacking in other Vietnam films from that era.
"I had been there [in Vietnam], this was reality," he stated. "It was not the bullshit the Pentagon, the CIA and the government tell you. They were lying about that war from day one. It was a huge fraud on the American people and on the world. They did it illegally… they are still doing it illegally."
Success and failure
The outspoken filmmaker showed only flashes of his familiar fury at US foreign policy as he reminisced about his rollercoaster career and early struggles in the industry.
Autobiography Chasing The Light deals with the first 40 years of Stone's life. "The book begins at 30 and ends at 40, with flashbacks to the 1940s and 1950s," he said. "It [the book] is the foundation of a character. After 40, there are many twists, many turns, but I still have to write that. Sometimes, only by writing it do you understand it. Every film goes so fast, like a train… We have very little time to live the experience."
Reflecting on the critical reception to his work, Stone added: "Sometimes you have success and often you have failure. I have learned from both. Success gives you confidence, gives you hope…success is necessary. Also, failure is necessary. Failure teaches you anger, heartbreak, the desire for revenge."
At the age of 19, Stone had a novel rejected. In his 20s, he went on to write around a dozen screenplays and treatments. "None of them connected, I felt horrible," he told the audience on the terrace of Venice's Isola Edipo. "At the age of 30, I had not achieved anything, I thought, and I almost gave up."
But he persevered and, in 1987, found himself being presented with the Oscar for best director by Elizabeth Taylor for Platoon.
"She was the biggest movie star for me when I was a young boy," he recalled. "I loved her. I thought she was the sexiest woman. I gave her a kiss on both cheeks and the next day she sent me a bouquet of roses."
Now 73, Stone claims to have as much passion as ever. It's only his energy levels that have diminished.
"I wrote the book the way I make movies, it is very much the same thing," he added. "You put all of yourself into it. Sometimes, it doesn't feel like you are good enough or can do it but you still try.
"I don't know if I could make it through a jungle anymore but I have the same anger about these wars that America is in, these endless fucking wars. That anger fuels me, and the desire to wake people up."